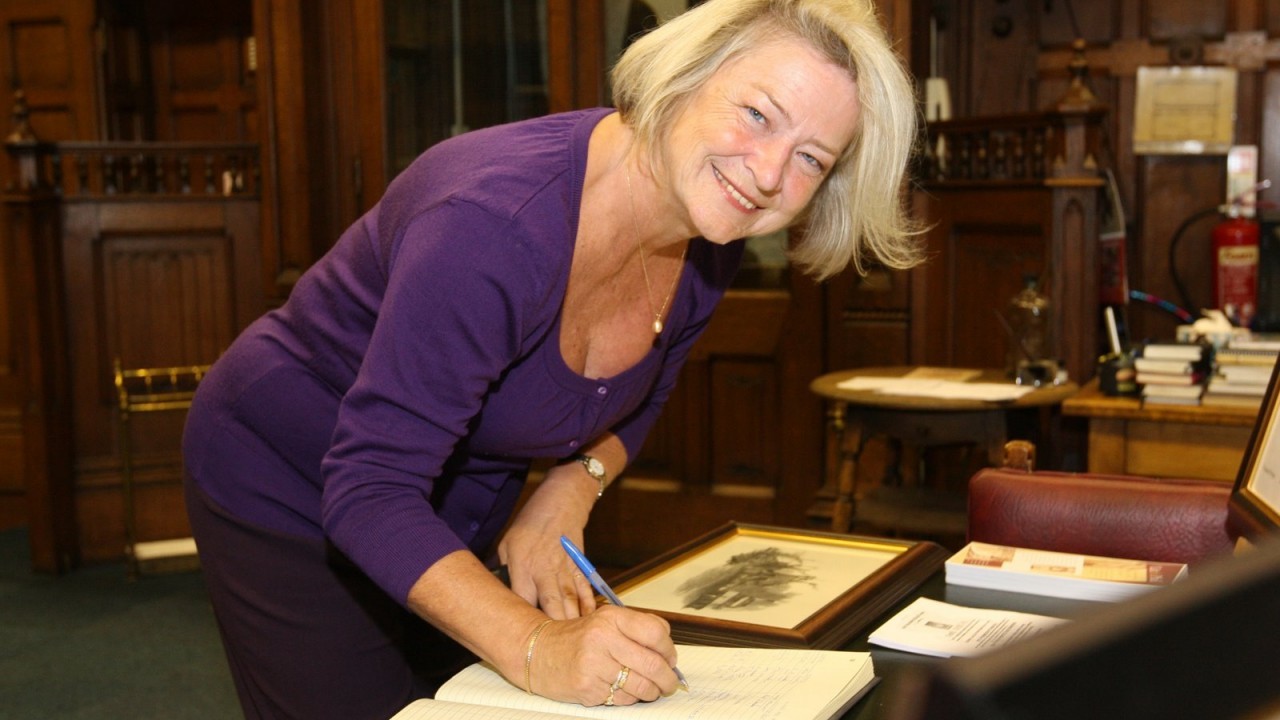 Whether delving into the past or reporting live from the scene, Kate Adie is the quintessential storyteller for the ages.
When Kate Adie reported from the frontline of war zones, it was always with an admirable steeliness. Frequently, we watched her in the thick of dangerous outbursts of violence – from the Tiananmen Square protests in 1989 to the Rwandan genocide in 1994.
Safe at home in our living rooms, we admired her nerve and dedication. She sustained wounds during her two decades of war-zone reporting, too, but was never deterred by the danger. Film crew in tow, she armed herself with only flak jacket and smarts to tell us the stories which others were afraid to tell.
But to call Kate fearless is "an absolute nonsense", in her opinion.
"Anybody who doesn't have fear is going to end up dead quite quickly," she told me with a delightful matter-of-factness.
"All reporters have fear – that's part of your judgment as to whether you go farther down the road or not."
With her years reporting from the field now behind her, Kate has turned her eagle eyes to other stories and media beyond the realm of broadcasting. She is a keen writer and has authored many books in the past 10 years. Most recently, she has written about the impact of World War I on women – a topic which she will discuss in her forthcoming speaker event at Aberdeen University's May Festival on Sunday.
As a pioneering journalist who has proved that women are just as capable in a previously male-dominated profession, Kate was the ideal candidate to explore the lives of women who, 100 years ago, proved they had the mettle to keep the nation on its feet while their men were away defending it.
The work these women did in munitions and engineering roles is well known, Kate explained. But beyond that, little else has been told of their services to Queen and country. Tram conductors, railway ticket collectors, signal-box operators, post women, civil servants and volunteer police officer – all these roles were filled by brave and enterprising women.
"There was a huge range of things they did, and it turned their lives and, indeed, society upside-down," said Kate.
But when the war ended in November 1918, this landslide evolution in gender equality didn't keep going.
"A great number of people, especially men, just desired to return to the status quo. But it wouldn't go back completely. This is because – and it's something that has particularly interested me – what had happened was that women proved they could do these jobs," she said.
"Before the war, nobody thought they could. They thought it wasn't right for women to take on such responsibilities and make decisions. We have forgotten how patronising society was to women, and how frustrated they were."
The effect of the war on women's traditional roles is by no means an isolated incident. As Kate has borne witness to in her journalistic career, warfare has often been the midwife of change for women's roles. The form and magnitude of that change, however, is different each time.
Kate explained that this correlates directly "to women's positions in society during peacetime".
She said: "Sometimes, we see a change, but you don't always. There's nothing specifically different, except for the opportunity of a disrupted society. It doesn't happen in all cases, but women can take advantage of those opportunities.
"A good example is the Iran and Iraq war 20 years ago. At the time, they did think they should have women troops, albeit under some rather limited conditions. But after the war, has women's position changed? Not at all. They are still in a mediaeval and extremely prejudiced society."
Aside from speaking about the women and war at Sunday's event, Kate will also delight the audience with tales of her career in journalism. She will likely be asked to share her numerous tales of having barely escaped perilous situations with her life. But if she does, she will, of course, do it with that steeliness and humility she has always shown.
As she explained, she's not fearless, just driven.
"I certainly wouldn't call myself fearless at all. I'm just a curious reporter and I like to get the story. When something happens, you want to tell other people, and to me that's what journalism is all about. Circumstances might be trying and testing, but, if it's a significant story, you want to get back to tell it."
Kate Adie will be in conversation at Aberdeen University's May Festival on Sunday at 3pm. For tickets and further information on the full programme of events at the May Festival running across the weekend – from science, to film, food and literature events – visit www.abdn.ac.uk/mayfestival