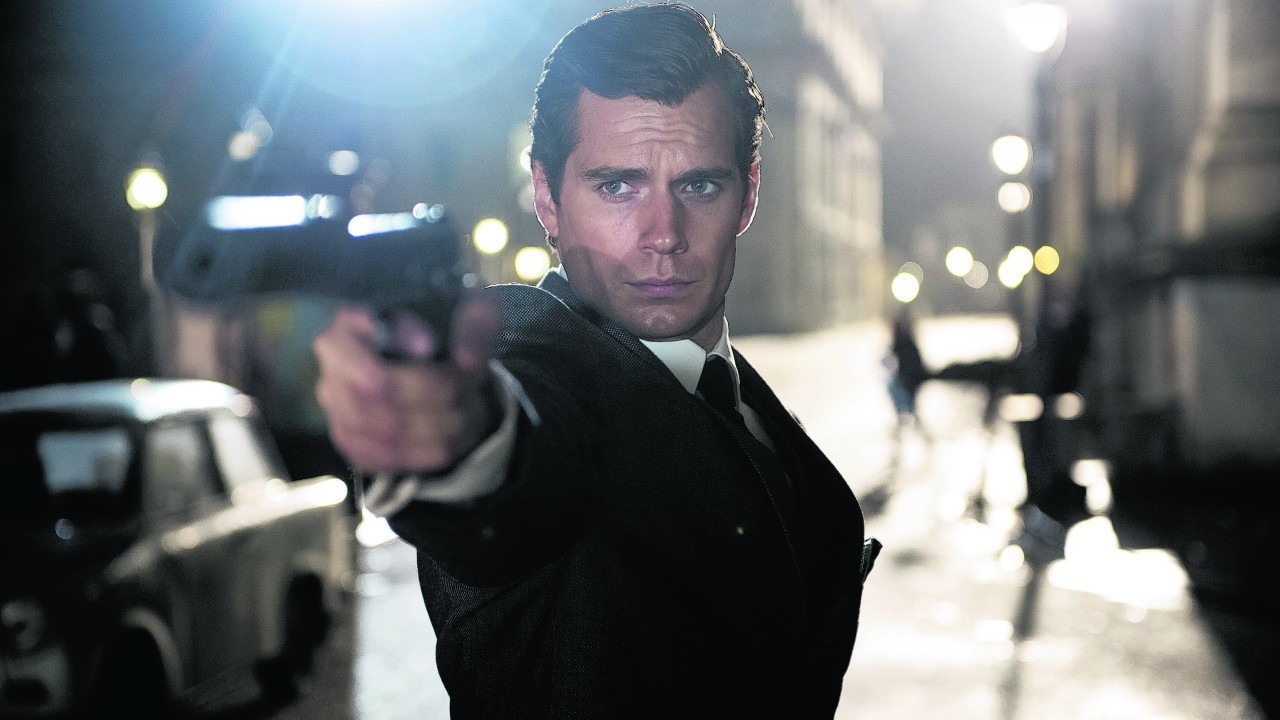 THE MAN FROM U.N.C.L.E. (12A)
3 stars
More than 50 years after the achingly cool TV series The Man From U.N.C.L.E. exploited Cold War paranoia for rollicking entertainment, director Guy Ritchie continues to explore fractious male dynamics in this globetrotting spy caper.
The unlikely pairing of suave American agent Napoleon Solo and tightly coiled Ukrainian rival Illya Kuryakin during the Cold War remains unchanged in Ritchie's script, co-written by Lionel Wigram.
While the original pairing of Robert Vaughn and David McCallum lent swagger and smouldering sex appeal to the politically divided operatives, Ritchie's good-looking men from U.N.C.L.E. – Armie Hammer and Henry Cavill – radiate impeccably tailored style over substance and sizzle.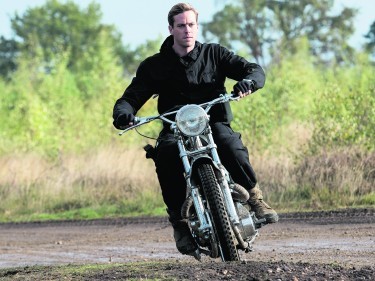 James Bond could arch an eyebrow and exude more charisma than either leading man manages here, as they attempt to wrench a nuclear warhead from the clutches of a criminal network.
The film is having a laugh to suggest that these strapping and chiselled agents, both over six feet tall, could conduct covert surveillance without drawing attention.
Ritchie evidently agrees and stokes the embers with a thinly veiled declaration of sexual preference that will prick up the ears of gay audiences as the men attempt to simultaneously pick two locks on a door and evade capture.
These throwaway moments, including an appearance by Pussy Galore's helicopter from Goldfinger, are symbolic of a film that has the right ingredients but no clear sense how to blend everything smoothly.
Victoria Vinciguerra (Elizabeth Debicki) is the beautiful mastermind of a criminal organisation which hopes to destabilise global peace using a warhead armed by nuclear scientist Udo Teller (Christian Berkel).
CIA handler Sanders (Jared Harris) instructs his debonair agent Napoleon Solo (Cavill) to join forces with
KGB counterpart Illya Kuryakin (Hammer) to thwart Victoria's nefarious plan.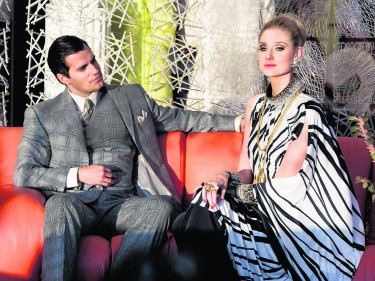 The two men bicker and brood, give each other pet names (Red Peril and Cowboy), and dangle Udo's car mechanic daughter Gaby (Alicia Vikander) as bait to flush the scientist out of hiding.
En route, the agents clash with Gaby's sadistic uncle (Sylvester Groth) and forge an alliance with an unflappable British agent, Alexander Waverly (Hugh Grant).
The Man From U.N.C.L.E. lovingly evokes the textures, polish and poise of an era that rebelled against post-war drabness, with fine contributions from production designer Oliver Scholl and costume designer Joanna Johnston.
The soundtrack jives to jazzy beats, matched by Ritchie's measured direction, which thankfully avoids some of his usual showboating.
If looks were everything, the film would twist and shout in snazzy kaleidoscopic split screens.
However, characters are poorly developed and onscreen chemistry between the leading men and a shamefully underused Vikander is tepid.
"For a special agent, you're not having a very special day," Waverly quips to Kuryakin after one chase sequence.
On this handsomely crafted yet bland evidence, nor is Ritchie.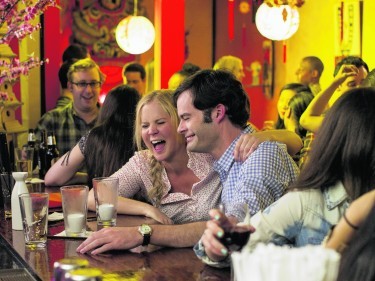 TRAINWRECK (15)
4 stars
Award-winning actress and writer Amy Schumer raises her skirt to political correctness and gleefully flashes sexual inequality with this potty-mouthed comedy that is far from the debacle promised by the title.
Directed at a lick by Judd Apatow, who temporarily lost his mojo after Knocked Up in 2007, Trainwreck is a hilarious and heartwarming portrait of modern womanhood.
Throughout the uproarious two hours, Schumer is the butt of her own expertly targeted jokes, and she generously shares sparkling one-liners around the excellent ensemble cast.
In particular, she creates a hysterical supporting role for Oscar-winning British actress Tilda Swinton, as a monstrous magazine editor who demands gung-ho headline-grabbing titillation, not gently worded, sentimental froth.
There's a thin glaze of sweetness to pivotal moments between female characters in Schumer's script and an emotionally raw scene at a funeral deftly tugs the heartstrings.
Yet, for its adherence to rom-com tropes, Trainwreck is laced with sufficient biting wit and self-effacement to drink The Hangover and its crude imitators under the table, and seal victory with a rousing belch.
At nine years old, Amy Townsend (Amy Schumer) learns a most valuable lesson about human relationships from her embittered father (Colin Quinn).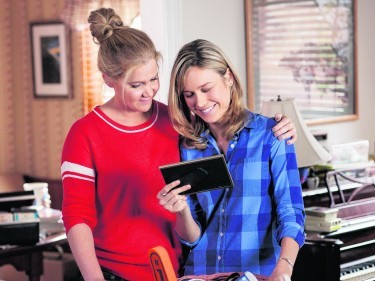 "Monogamy isn't realistic," he tells Amy and her little sister, Kim, encouraging the girls to chant this as a mantra.
Twenty-three years later, Amy has taken those words to her booze-soaked heart, enjoying numerous anonymous sexual encounters, while dating a muscle-bound hunk called Steven (John Cena), whose prowess leaves a lot to be desired.
In stark contrast, sister Kim (Brie Larson) has settled down with her knitwear-clad husband Tom (Mike Birbiglia).
"You dress him like that just so no one else wants to have sex with him?" quips Amy, mocking her sibling's domestic bliss.
When Amy isn't picking up men in bars, she works at lifestyle magazine S'Nuff with kooky best friend Nikki (Vanessa Bayer).
Out of the blue, editor Dianna (Tilda Swinton) assigns Amy to pen a profile on sports doctor Aaron Conners (Bill Hader), who is good friends with basketball player LeBron James (playing himself).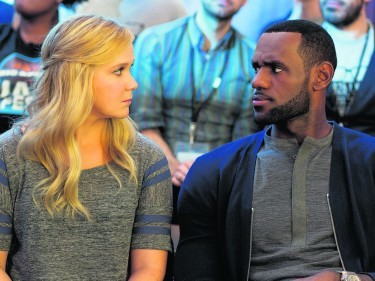 Amy knows almost nothing about sport, but she obliges and sparks an unlikely romance with the kindhearted medic that threatens to unravel the tattered fabric of her bed-hopping existence.
Trainwreck is a wicked delight that asserts independent, single women have the same right as men to enjoy carefree sexual escapades without being labelled a hussy.
Schumer instantly endears us to her self-destructive thirtysomething, who has to hit rock bottom before she can begin the slow, painful ascent back to healthy self-respect.
Hader is an adorable comic foil and sparring partner and onscreen chemistry between the two leads simmers beautifully. Most of the supporting performances are equally memorable, including amusing cameos from Daniel Radcliffe and Marisa Tomei.
Jump onboard Schumer's runaway, filthy-minded train of thought and hold on tight.