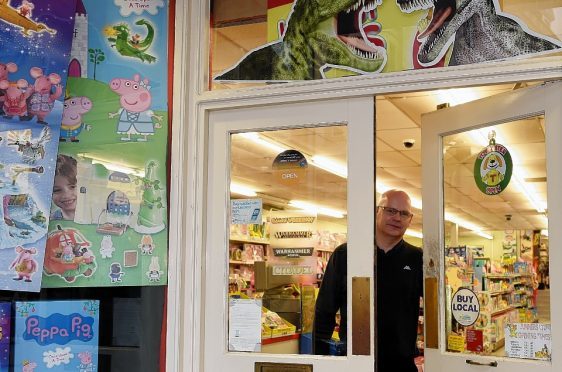 More than 100 years of trade will reach an end this weekend when a historic Moray toy shop closes its doors for the final time.
Just one month ago, shelves at the Junners store at Elgin's South Street bulged with toys and gadgets – but now they are almost bare.
Over the past few weeks, shoppers have been snapping up armfuls of cut-price goodies as the owner slashed prices to clear £500,000 worth of stock.
The vast emporium started life as a bicycle shop in Fochabers in 1899, before expanding its range by selling toys and moving to Elgin.
However, the increasing popularity of the Internet and toy aisles in supermarkets has affected profits in recent years.
In November, store owner George Duncan announced his decision to close Junners, to the dismay of generations of customers with cherished childhood memories.
During the busy festive period, stock flew off the shelves as shoppers made the most of their last chance to buy Christmas treats.
Store manager Eric Beattie said it would be sad to say goodbye to the customers who have supported them for years.
"Ever since people learned we were to close there have been a lot of well-wishers through the door," he said.
"We have had some really loyal customers."
Mr Beattie has worked at Junners for 34 years, starting when he was 16 and joining management in 2000.
The store also employs six other full and part-time employees.
Mr Duncan said it would have been possible for the store to remain open for a few more years, but opted to sell up while the going was still relatively good.
The 55-year-old said: "It was difficult, but we decided this is the time to close it and get on with our lives.
"For the staff, this is very hard, but from a business perspective, it's the right thing to do."
Elgin City North councillor Kirsty Reid said the toy shop's closure marked "the end of an era" for Elgin's town centre.