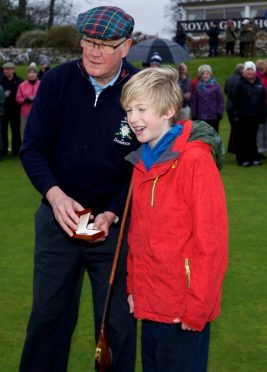 Jamie McKenzie
A year-long celebration has been teed up to mark 400 years of golf at a world renowned championship course in the Highlands.
Royal Dornoch Golf Club is working closely with the local community to create a year of celebration in 2016 to signify four centuries since golf was first played on the links.
Yesterday club captain Jim Seatter literally started the ball rolling by driving off from the first tee using a special, hand-crafted hickory club.
Head professional golfer Andrew Skinner put the old fashioned feathery ball in place using a pyramid of sand to set up the "driving in" ceremony.
The ball was retrieved from the fairway by junior club member Cameron Welsh, 12, who received a memento of a specially struck silver ball marker with the 400 years crest on the front.
The captain then raised a special flag outside the clubhouse signalling the start of the milestone year.
The 400 years of golf celebration will highlight the aspects that make the club, the town and the community an international destination for visitors.
The club, which is part of the Highland Golf Links partner organisation that promotes golf tourism, has been joined by local businesses, schools, community groups and sports clubs in marking the special anniversary.
The year will be filled with concerts, exhibitions, a gala dinner, a street party and a host of other events that celebrate the culture and sporting history of the area.
Highlights include a Royal Dornoch v Country Club of North Carolina v Donald Ross Society v Atlanta Athletic Club tournament and a hickory match involving the British Golf Collectors Society.
A new Royal Dornoch 400 tartan has also been created and a special whisky launched to mark the occasion.
Neil Hampton, Royal Dornoch's general manager, said: "It's great to get the 400-year celebrations under way after a lot of planning and effort in getting to this stage.
"Dornoch takes great pride in its history and heritage, being one of the oldest locations where golf has been played in Scotland. The events over the coming year will commemorate the past and demonstrate how golf has helped shape the town, but they will also recognise that it is still a huge economic driver and can help further promote this area."