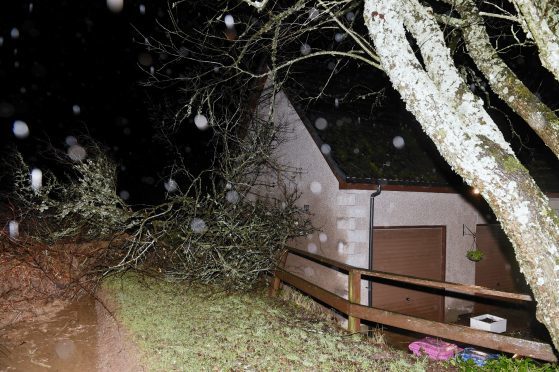 Efforts were continuing to save a Moray home and to prevent further landslides last night after hours of rain engulfed a Speyside road.
The A920 Dufftown to Huntly route was closed in both directions after mounds of earth and trees cascaded from an overlooking verge and covered both lanes.
Council road workers launched into action just after 4pm to prevent further slips and to safeguard a property at the foot of the verge.
The owner said the house only narrowly escaped being swamped by the initial landslide, which tumbled across the A920 and smashed into its fence and garage.
He said his family was fortunate that it only reached the perimeter of the house.
"The landslide has knocked some fencing down and hit the garage, but we were fortunate it happened that way – it could have been worse," he said.
"Had it occurred just 20ft to the east then it could have come right into the front of the house.
"When it happened I heard a great sound and I wasn't sure exactly what was going on.
"At first I thought it might have been a big lorry going past, and it was only when the police arrived that I realised what it was.
"There has been excessive rain all day, and the River Spey is the highest I have seen it for quite some time."
The drama unfolded when heavy rain caused a mass of soil to crumble onto an unclassified road on the outskirts of Dufftown, overlooking the busy A920 route.
The build-up of surface water at the top of the hill in the Auchindoun area caused another landslide which submerged the road shortly after.
As rain continued to fall relentlessly into late afternoon, more dirt was dislodged from the verge which rushed down onto the A920 around 5pm.
Moray Council road engineers worked to clear debris from the first slip on the unclassified road as a matter of priority, alleviating the water pressure on the verge overlooking the residential property.
Amid increasingly dark and damp conditions, the workers toiled at the peak of the verge, using heavy machinery to clear the route.
The team managed to funnel a torrent of water down the roadway to prevent it from creating another landslide.
A police spokeswoman said: "At around 4.10pm the A920 road was closed in both directions as both lanes had been blocked by a landslide.
"Police officers are assisting across the north-east region and working with partners including Moray Council."