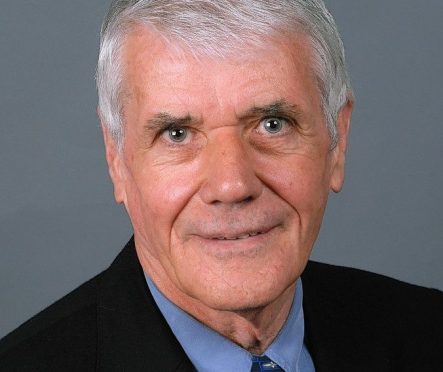 A councillor described as a "true champion" of the north-east has died.
Tributes flooded in yesterday for Councillor Ian Gray, who dedicated the last nine years of his life to representing the Banff area of Aberdeenshire.
The 73-year-old died on Saturday, after a two-year battle with cancer.
The SNP member's death could lead to another battle for control of the council. Each of the main groups now has 32 seats, with three unaligned independents.
Just hours before Mr Gray's death was announced, the ruling Partnership's co-leader Martin Kitts-Hayes announced he would step down as a result of the so-called Legogate scandal.
But yesterday, party politics were cast aside as councillors from across the chamber paid tribute to Mr Gray and described him as a "very honest and hardworking" man.
The flags at the council's Woodhill House headquarters in Aberdeen flew at half mast out of respect for the father-of-two.
Mr Gray was a staunch campaigner for his local community in Portsoy, where he was born and brought up.
He was elected to represent Banff and District in 2007, having previously been on the local community council. He also worked for Unilever and British Telecom.
As well as being well-known for fighting for the best for his constituents, the grandfather-of-four was a member of the local bowling club and Masonic lodge.
And despite his illness, his daughter Fiona Allan said he was determined to "soldier on".
"He was diagnosed two years ago and he fought the battle with courage and determination," she said.
"His journey never went very smoothly and there were hiccups but he soldiered on and battled to the end.
"He was a councillor for everyone else, but he was our dad and we miss him terribly. We're going to really miss him."
Mr Gray's son Ian added: "He was just a normal person."
Council co-leader Richard Thomson described it as a "sad day" for all those who had known Mr Gray.
He said: "He was a measured, considered and thoroughly professional councillor as well as being passionate about his constituency issues. The Banff and Buchan area has lost a true champion."
Fellow Banff councillor – and friend – John Cox, added: "Councillor Gray was a well-liked, hardworking and extremely passionate councillor who championed the best interests of those in his constituency."
Mr Gray was a strong voice on the local area committee, the gypsy traveller committee and the north licensing board. He had previously served on Aberdeenshire's social work committee.
Last night, opposition group leader Jim Gifford said: "Elected members from across the political spectrum will miss Councillor Gray a great deal. He was a very honest and hardworking man and this is a loss to us all."
Deputy opposition leader Karen Clark, who previously worked with Mr Gray on the social work and housing committee, added: "He was a hardworking and principled councillor, the very best."
Councillor Paul Johnston, of the Democratic Independent Green Group, added Mr Gray had left "a great legacy for the constituency of Banff and district."
Mr Gray is survived by his children, Ian and Fiona, and four grandchildren. His partner Pat died six years ago.
His funeral will be held at Portsoy Parish Church on Fridayat 1.30pm, thereafter to the cemetery.