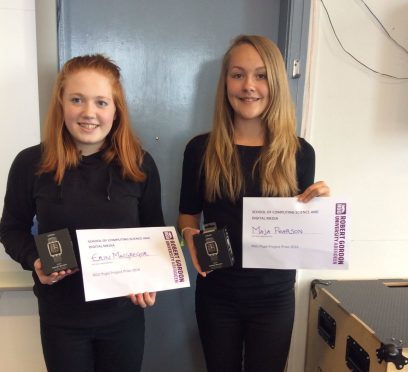 Two computer enthusiasts from Wick have triumphed in a competition run by Robert Gordon University.
The RGU pupil project prize invited youngsters to submit a video relating to computing, cybersecurity or digital media.
The winners were Maja Pearson and Erin MacGregor from Wick High School for their innovative Quancobot raspberry pi robot.
And Chris Aitken, a teacher at the school, praised their efforts, saying: "I am absolutely delighted at the recognition Maja and Erin have received with their Quancobot raspberry pi robot.
"They worked hard for over a year and really pushed themselves to learn not only advanced programming concepts, but also electronics."
Dr Mark Zarb, a lecturer in computing at RGU, added: "This is the first year we have run the RGU pupil project prize at the school of computing science and digital media, and I am delighted with the work Maja and Erin put in.
"Their Quancobot project is exactly what we were looking for when we launched this competition – something fun, creative and innovative."