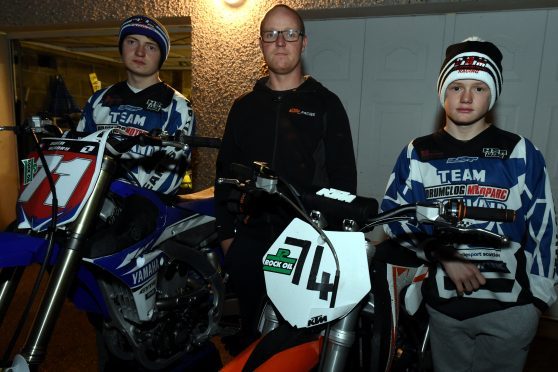 Two young north-east motocross stars have been left heartbroken after thieves made off with their most cherished bikes – worth almost £10,000 each.
Brothers Owen and Logan Hendry, of Kintore, awoke to find their Husqvarna TC-85 and KTM SX 150 gone from the garage of grandfather Mike Scott's home.
The 60-year-old is now offering a "substantial reward" for any information that leads to the bikes being found.
The raiders also made off with Mr Scott's 2011 black and white KTM 350, which is worth about £2,000.
The thieves targeted his home, where the youngsters – both former Scottish champions – also live, between Sunday at midnight and Monday morning at 5am.
Last night 16-year-old Owen and 12-year-old Logan, who have been racing since they were tiny, described the thefts as their worst nightmare.
Mr Scott believes the raiders broke in through a side door in the garage before picking out the three bikes and making off.
The family awoke to find the garage door wide open and its side door ajar.
Aside from the three bikes and four helmets, nothing else from the property was taken.
However roughcaster Mr Scott believes his family has been "targeted" due to Owen and Logan's profile as well-known local racers, and has since ramped up security at his property.
The youngsters had just returned from the Ecosse XC championships in Dunbar on Sunday – where Owen came second overall and Logan third.
Both brothers hope to one day make a living as professional motocrossers.
Mr Scott said: "I am annoyed, they are upset. We were away racing on Sunday. I was up at the back of 5am.
"I was up and my wife came through and said the garage door's up, I knew right away what it would be. Owen's bike, he has used it from March until about a month ago.
"The funny thing is I have always got the garage doors blocked with the van and a car. The lorry battery went flat, and I took it forward so the garage wasn't blocked.
"I think they have been here before and seen the opportunity and that there was nothing in front of the garage.
"We compete all over Britain and Ireland, every weekend. We were out last weekend, but might be having a break because of this."
Owen's KTM was bought for £6,600, but has thousands of pounds of extras on it – bringing the value closer to £10,00. Kemnay Academy pupil Logan's Husqvarna is worth about the same.
Owen said it was one of his favourite machines.
He added: "I am just more disappointed, and devastated having somebody come onto our land and walk away with everything we have worked for.
"They are probably two of the best motocross bikes in Aberdeenshire. They were all personalised for us. It was my race bike for the year. It looks like they have been targeting us for a while before hand."
The 2016 Husqvarna has yellow, blue and pink graphics and a number 74 red plate with white writing on it; and the 2016 KTM has orange and white graphics, with a number 71 red plate also with white writing.
Mr Scott's KTM has Rockstar graphics on it.
PC Connor McKeen said: "These vehicles would either have been driven away or would have been loaded onto a trailer and I am appealing to anyone who may have seen or heard anything suspicious to get in touch with us.
"This is an upsetting incident for the owners and we would urge anyone with information or who may be offered these vehicles for sale to contact us on 101."