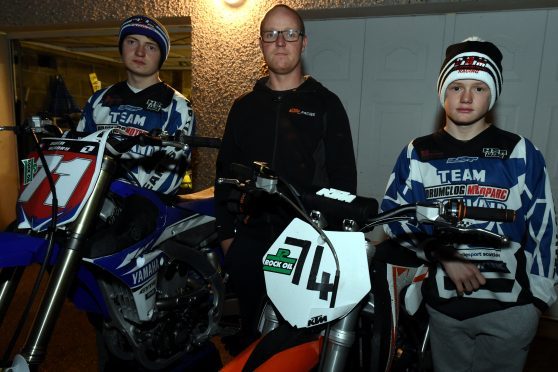 A police chief has warned residents in the countryside are being targeted by "hardcore" criminals intent on stealing cars and motorcycles.
Chief Inspector Murray Main yesterday said officers were determined to "break the chain" and weed out raiders following a string of housebreakings and car thefts in the north-east.
In the Huntly, Donside and Deeside areas of Aberdeenshire, break-ins have reduced but motor crime has gone up by 19% compared to last year.
Ch Insp Main said acquisitive crime was the "biggest issue facing policing" in not just Marr, but the wider region.
"We are subject to particular incidents whereby individuals are targeting rural (communities), and trying doors and cars that are unlocked and regrettably, in a lot of areas, they are successful," he said.
"Over the last six months or so we have seen an increase in the number of housebreakings taking place. It has such a devastating effect on a lot of people."
But he assured the public that officers were doing "a lot of work" to crackdown on the "relatively small, hardcore group of individuals" responsible.
Earlier this month, young moto-cross racers Owen and Logan Hendry were devastated when thieves stole their bikes, valued at about £10,000 each.
Thieves raided their grandfather Mike Scott's garage, and took the two bikes and a black and white KTM 350.
Last night Mr Scott confirmed his own bike was the only one to be recovered so far – and admitted they had perhaps been too "complacent" since they lived out in the country.
And in the summer, Braemar Mountain Sports was left counting the cost after raiders carried out a smash-and-grab – making off with £15,000 of stock using stolen cars, one of which was taken from a property in Huntly.
The incident is believed to be linked to a similar break-in to Banchory's Out There Active Wear on June 9.
Ch Insp Main, area commander for Aberdeenshire South, called for people to lock up their cars and homes to deter criminals as he updated councillors on the most recent crime figures for Marr.
He said: "There is a lot we can do and are doing to encourage people to be more safety and security conscious. There has been a number of ATM (raids) and motorbikes stolen from shed and gardens. It is about breaking that chain.
"Aberdeen, Aberdeenshire sand Moray are collectively trying to tackle this issue. I have got faith we will be able to do it."
From April to September this year, there were 22 thefts or attempted thefts by housebreaking in the Marr area, a drop of 26 from the same period in 2015.
Detection rates for housebreaking have risen by 37.1%.
However motor vehicle crime in the region – which includes breaking into, stealing from and thefts of vehicles – has risen by 19% to 25 on 21 during the same period last year.
These were most common in the Huntly, Strathbogie and Howe of Alford areas with 11 incidents, compared to eight in Aboyne, Upper Deeside and Donside, and six in Banchory and Mid-Deeside.
Since April, 23 thefts by shoplifting have been reported in Marr – two more than the period last year – with detection rates rising by 31.5%.
Ch Insp Main added there would be additional police patrols out across Aberdeenshire tackling both violent and acquisitive crime "as best we possibly can" throughout the Christmas period.
Mr Scott, 60 – who believes thieves specifically targeted his home in the Kintore area for his grandsons' Husqvarna TC-85 and KTM SX 150 – echoed Ch Insp Main's calls for people to be vigilant.
Owen, 16, and Logan, 12, are both former Scottish motocross champions.
Last night, Mr Scott said: "They have recovered one bike, my one. It was still in one piece. Hopefully the other ones will still be in the area.
"The younger one, Logan, he is a bit down about it, we'll just have to wait. We have got CCTV, we have got the alarm in, it has opened our eyes a bit. We were maybe a bit complacent before, being out in the country.
"Hopefully we'll get the other two."