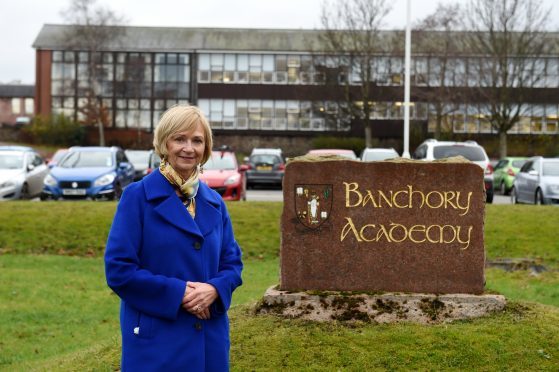 Calls are being made to replace an "outdated" secondary school in Aberdeenshire.
Councillor Jill Webster has asked council officials to develop a concrete proposal to build a replacement for 30-year-old Banchory Academy.
She said there was a need for plans to be in place for the new school ahead of the next capital investment plan.
She said: "Banchory is performing fantastically producing results up there with the best in Scotland.
"It has terrific pupils and teachers, but it really is time to plan for the future – facilities for Banchory are languishing – it is outdated for today's modern curriculum.
"We have been very patient in the Marr Area whilst investment has been made in academies elsewhere in Aberdeenshire recognising that investment must be made in areas of the greatest need to date."
Banchory Academy was ranked the worst in Aberdeenshire in the annual assessment of overall suitability ratings in terms of its ability to deliver the current curriculum, falling below Peterhead and Inverurie academies.
Councillor Webster added: "I have major concerns about the accommodation as shown in the council's own annual survey and my concerns are heightened by the recent change to the pupil capacity figures which have increased from 780 to 900.
"We are told this review was as a result of the balance of practical to non-practical subject requirements-but I am sceptical given the emphasis on further development of apprenticeships and practical subjects in the curriculum.
"How can we fit more pupils into an already overcrowded school?"
On completion of the Banchory Sports Village, the site of the existing swimming pool would become available.
Councillor Webster wants to utilise this as a push for immediate action.
She said: "A site for a replacement academy has been earmarked in Aberdeenshire's Local Development Plan but unless concrete proposals come forward for a new academy on the site, I fear there will be pressures to remove this from the plan in future."
The Banchory secondary school opened in 1872, then called Banchory Central Higher Grade School.
In 1925, it became Banchory Secondary School, before being renamed Banchory Academy in 1945.
The existing school's main building was built in 1983, with the remaining blocks being completed in 1986.