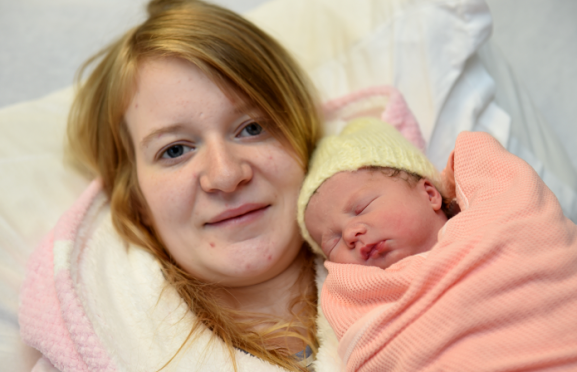 While many people were popping the champagne corks to herald the arrival of 2017, two new mothers enjoyed a very different celebration.
Both Alison Roy and Nicolle Clark were expecting to have their babies in the coming weeks, but ended up toasting the happy event on New Year's Day.
The pair gave birth just three minutes apart at Aberdeen Maternity Hospital with Miss Roy's little girl entering the world at 2.26am.
Lisa, who was due to be born on January 15, weighed in at 6lbs 8.25oz.
Her delighted mum, who also has a 10-year-old daughter, Carol, said she was still getting over the shock, after her trip to hospital turned into an overnight stay on Hogmanay.
The 36-year-old added: "It was strange because I didn't know what it was at the time, but I was told she might have to be induced.
"We came in about 2pm and were here all afternoon, sitting and waiting and then that's when they said: 'we're going to have to deliver it today because you've got too much pain.
"It's actually very surprising because I wasn't expecting to have a new year's baby, I thought it was fake labour again.
"It was a lot quicker than my first one, she was in and out, but all it took was one big push this time round."
In Ms Clark's case, her daughter's birth was so unexpected she had still to decide on a name late yesterday morning.
Her pint-sized newcomer weighed in at 5lb 4.5oz and was born at 2.29am.
The 24-year-old, from Hilton, had been expecting to give birth on January 23, but was forced to dash to hospital late on Hogmanay when her contractions started.
And she revealed her big sister Amy would be in for an even bigger surprise as she was expecting a baby brother.
She added: "It's going to make for an extra special new year's celebration from now on."