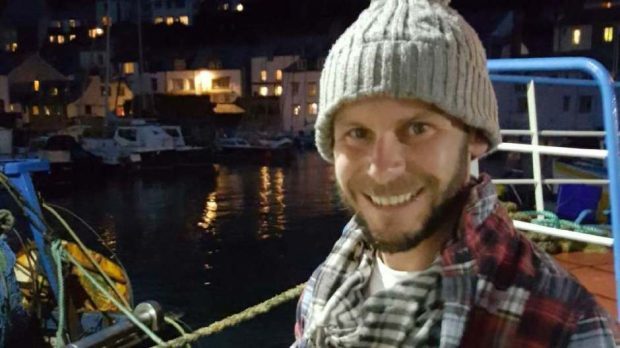 The family of a kayaker reported missing off the north-east coast last night said they hoped his "adventurous spirt" would keep him safe.
A major land, air and sea search was launched on Sunday after Dominic Jackson failed to return home having set off from Portsoy Harbour in his purple boat the day before.
The 35-year-old gardener from Fettercairn had only recently taken up the sport having just purchased the raft.
A dozen volunteers from the coastguard were deployed to the scene at the weekend after his flatmate raise the alarm.
Police officers also attended at the scene to scour the coastline in the hope of finding Mr Jackson alive.
The searches continued yesterday, but they were eventually stood down at around 7pm.
It is expected they will continue the effort this morning.
Mr Jackson's father Jeremy and brother Stuart also joined the search teams in a desperate bid to try to find him.
And last night his sister Ellie said the whole family was hoping her "mega fit" brother would come back to them.
Miss Jackson, one of his six siblings, said: "Everybody loves Dom.
"He has an adventurous spirit and I know that he can get through this."
Speaking from her home in Australia, she added: "Dom is very much a family man. He is universally loved, sociable and would help absolutely anyone.
"He loves the outdoors and left his job in the oil to start his own gardening company to be out more.
"He is incredibly fit and did marathons and races, so we're very hopeful that he just lying at the bottom of a cliff face somewhere waiting to be rescued. There can't be an alternative right now.
"If I could speak to him now, I'd tell him to keep warm – help is coming."
Calum Christie, senior coastal operations officer for the coastguard, said the terrain was proving challenging in the search.
"We're assisting Police Scotland with this search," he added.
"We have teams from Portsoy, Buckie, Burghead, Banff and Fraserburgh – searching from here to Strathleen, on the other side of Buckie.
"It's quite difficult terrain to search in some places, but obviously our guys on the ground will do the best they can.
"We've also got lifeboats from Buckie, Macduff and Fraserburgh, which are searching the coastline."
The search radius was widened to two miles off-shore by the afternoon, with the coastguard calling in one of its helicopters, Rescue 948, and a fixed-wing plane, Coastguard 42, to map the North Sea.
Mr Christie said by the time the plane had flown over, teams had been searching for more than 10 hours.
He said: "We are covering the ground as we go along, and it is a steady process.
"But with the information we have got from the police about the kayaker, we are keeping our hopes up."
A police officer on the scene said inquiries continued alongside the search.
Inspector Ewan Strachan said: "I know that volunteers have been out assisting on foot with ongoing searches, and I would like to thank them for their help at this difficult time.
"Through inquiries carried out this afternoon, the last confirmed sighting we have of Mr Jackson is on Saturday morning between 10.30am and 11am where he asked some local people where the best kayaking spot might be.
"I would urge anyone with information, no matter how insignificant they think it might be, to contact Police on 101."
The police's dive team were also at Portsoy last night to help cover more ground.
Mr Jackson's green VW Transporter, which he had camped in on Friday evening, was found at the harbour on Sunday.