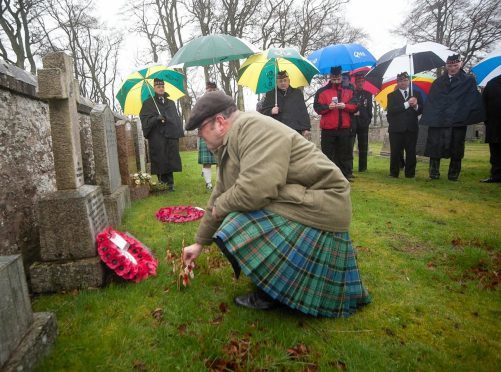 A group of veterans gathered at a north-east cemetery on Saturday to pay tribute to a local piper and war hero.
March 4 marked the 75th anniversary of the death of heroic Aberdeenshire soldier and Gordon Highland piper George Findlater.
Former Highlanders as well as local councillor and descendant, Mark Findlater, met at the cemetery at Forglen near Turriff to honour the man who was awarded the Victoria Cross for gallantry on the battlefield.
Piper, Findlater, was honoured after a battle at the Heights of Dargai, in what is now Pakistan, in 1897. Despite suffering severe leg wounds, he continued to play his pipes to spur on his comrades in battle.
He later supplemented his army pension by performing at music halls, a move which caused controversy in the military establishment. He retired and took up farming in Banffshire in 1899 but re-enlisted with the Gordon Highlands for the First World War.
Mr Findlater was one of the first pipe majors of the renowned Turriff Pipe Band and continued to farm in the region until his death in 1942.
Last night Mark Findlater, a former staff sergeant for the Royal Signals, said: "It was quite moving even after all this time. We're going to get funding to work with the Gordon Highlanders.
"This is a great asset for this area, but it's in the middle of nowhere. The main thing is to get the gravestone and lettering cleaned up."
Mr Findlater added he and the local community council were hoping to create information boards to celebrate Piper Findlater's heroism.
James Bayne from Alvah and Forglen Community Council added: "The community is very proud of the Gordon Highlanders and proud that Forglen Cemetery is the last resting place of a local hero, Piper Findlater.
"He is one of only 1355 people to have been awarded the Victoria Cross, the highest award in the UK honours system, since its introduction in 1857.
"We hope that the current interest will encourage more visitors to Forglen Cemetry and this lovely part of the Deveron Valley."
During the ceremony, former Highlanders Eric Fowlie and Mike Gerrie laid wreaths at Piper Findlater's grave.