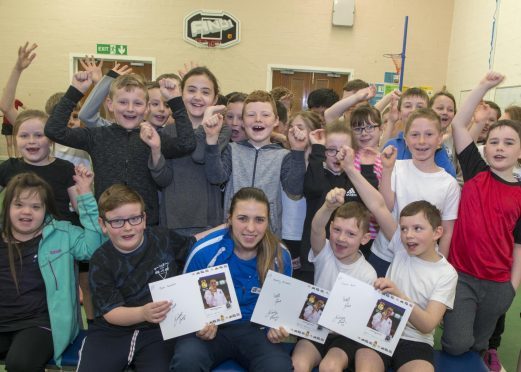 Commonwealth Games judo stars hit the fitness trail to inspire youngsters from a city school to get into healthy habits.
Kimberley Renicks, who won gold at Glasgow 2014 in the women's under 48kg category, was at Glashieburn Primary School, Bridge of Don, yesterday to lead youngsters through a unique circuit training session.
She was shadowed by fellow judoka Stephanie Inglis, 29, who also cemented her place in history among Scotland's fantastic judo squad at the Games, winning silver in the women's under 57kg category.
Kimberley, 29, then told her story from when she began judo aged four up to her Commonwealth glory and beyond. The children, who raised more than £2,000 in sponsorship money, were then presented with prizes for their fundraising achievements.
The school will receive 60% of the cash for sports equipment, while the remaining money will go towards the judoka's travel and training costs.
Paula Baxter, headteacher at the school, said: "It went really well, the children have done a great job with the fundraising.
"The money was raised over a two-week period and each class took part.
"In the circuits they did spotty dogs, press ups, half press ups and leg drives.
"The children really enjoyed it, they were all competing against each other.
"Kimberley then spoke to the children and showed them a video of her winning the Commonwealth gold medal. She spoke about healthy balance and how committed she has to be. She told the children how she trains all days and explained her whole routine.
"I think it's really important to bring people in who can show that you can achieve your dreams if you work hard. We've got a lot of children who compete in a variety of different sports, so hopefully they were able to take something from the talk.
"Being active and healthy eating is something we are keen to encourage the children to do."
Kimberley, from Bellshill, is now targeting a place at the Australia Gold Coast Commonwealth Games next year, while Stephanie, from Inverness, is continuing her rehab after battling back from life-threatening injuries she sustained a horror moped crash while teaching in Vietnam last May. She is targeting a place at the 2022 Games.