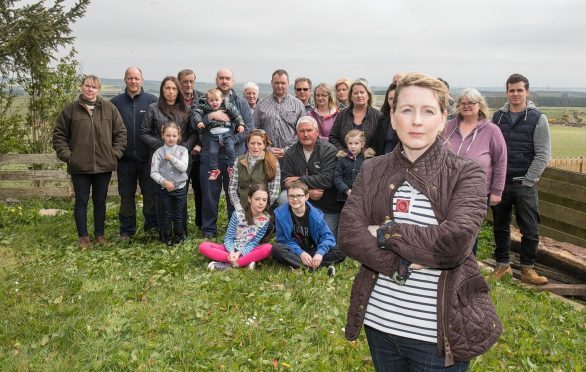 Residents have united to fight proposals for a huge quarry they say would "devastate" their rural community.
More than 250 people have signed a petition opposing the excavation of a 15.5 hectare site in the Muirtack area.
Emergency meetings have been held to draw up plans to fight the application, submitted by CHAP Aberdeen, to dig up sand and gravel.
The firm, which held its own consultation event last week, said it had to "go where the materials are" to meet high local demand.
But locals were said to be in "major distress" about the potential impact on the environment.
They believe there would be mess and noise pollution in an area of "outstanding beauty" that is home to many interesting species.
And they fear children playing would be in danger due to more articulated lorries using the ingle-track country road and local livelihoods shut down.
A formal public consultation has been launched and objectors have already started an online petition and set up a Stop The Muirtack Quarry page on Facebook liked by more than 120 people.
The petition had garnered some 276 names by the time the Press and Journal went to print.
Christina Curragh, who lives in the area, said: "It is an area of outstanding beauty within the Buchan plain, attracting visitors and wildlife.
"The local residents are in major distress over the situation as the social and environmental impact is immense. Never mind the poor road infrastructure we currently have in the area, it simply couldn't handle the increased volume of articulated lorries. The mess, damage to roads, noise that will travel throughout the valley, risk of accidents on the roads in the area with young children, the list goes on.
"No residents were made aware of these proposals prior to a newspaper notice. Word of mouth caused a local resident to check the council website for the plans that would potentially devastate their lives.
"We are gathering as much support as possible to protect this beautiful countryside. We have pink-footed geese in the area regularly, buzzards, and numerous other wildlife. The livery business would fail as the quarry noise would devastate the peacefulness and unsettle the animals, never mind the farm animals nearby."
Hugh Craigie, managing director of Chap Aberdeen, said: "We have commenced a planning application for the quarry. We held a consultation event on Tuesday, and around 50 people were in attendance.
"Most people there were certainly listening to what we had to say. They were there because they have concerns.
"We are going to that area because that's where the material is. We haven't got the freedom to trade anywhere. We have to go where the materials are. Sand and gravel are very much required in the area."
It is expected that an official planning application will be lodged in a couple of months' time.
Anyone who would like to give their views on the plans have until May 16 to email planning@hfm.co.uk