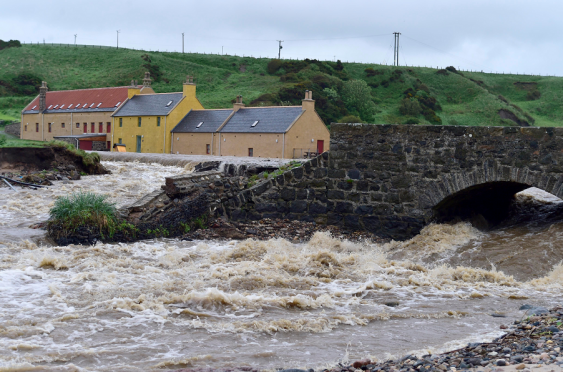 The race is on to repair flood damage in a north-east community in time for its annual boat festival.
Properties across Portsoy had to be evacuated on Wednesday after rainfall flooded the village overnight.
Among them, a grandmother had to flee her home with her grandchildren when her street – Soy Avenue – found itself under three foot of water.
The village's Sail Loft, which was refurbished as part of a £2million scheme to provide holiday accommodation to tourists, was also flooded.
The building had only recently been rented out for the season and was used last week by visitors attending Portsoy's music festival – the Haal.
It is now hoped that the 25-bed bunkhouse can be repaired in time for the community's next major event – the Portsoy Boat Festival.
This attracts about 10,000 people to the community every year, and takes place in just two weeks.
In addition to waterdamaged floors and furniture, the flooding has washed away the accommodation's only road.
Roger Goodyear, the festival's chairman, has said he is "hopeful" that repairs can be carried out as quickly as possible, but is unsure if they will be completed in time for this year's celebrations.
A spokeswoman for the community partnership which owns the Sail Loft added that damage would need to be assessed before any work started.
She said: "Everybody in Portsoy has been taken aback by the volume of water.
"It was fully booked for the Haal Festival and is booked out every weekend in June."
Local MSP Peter Chapman visited the scene yesterday afternoon.
He said: "I wanted to come and see for myself the damage that had been caused by the flooding on Tuesday night and into Wednesday morning.
"Clearly, the area around the Soy burn in Portsoy was particularly badly hit and I have every sympathy with households that were affected.
"The Sail Loft bunkhouse was due to be officially opened this week, and we have the boat festival at the end of the month.
"Hopefully, any remedial work required in terms of road repairs can happen as quickly as possible to avoid any further disruption."