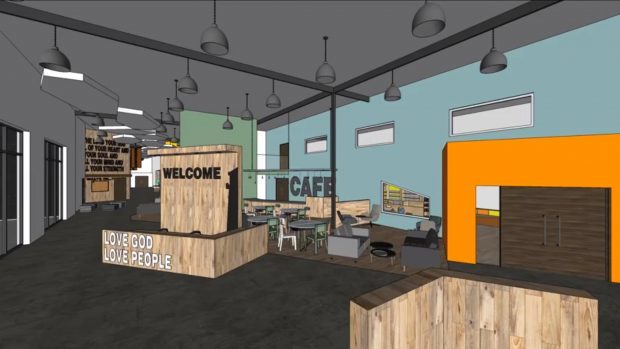 These are the first images of what a former supermarket could look like when it is converted into a church.
Plans to turn Fraserburgh's former Co-Op store on Albert Street into a place of worship were first unveiled two years ago.
The town's Assembly of God (AOG) won planning permission for the scheme in 2015 but has now resubmitted its bid with fresh designs.
If the plan is approved, the former shop, which was earmarked for demolition in 2014, would become a base for the town's Christian community.
As well as creating a new space for worship and a concert hall, the development would also create offices for the church's media team and house a cafe.
Separate senior and youth areas would also be provided and the outside would be landscaped.
Early designs have shown it to include an indoor half-pipe for skaters and a play area for toddlers.
Last night, lead pastor of AOG Central, Ben Ritchie, said: "We're delighted to have the concept images of our new church home, which help people see what it is that we are looking to create.
"We're looking forward to progressing with the project and building something that the whole Fraserburgh community can benefit from."
The 25,000sq ft supermarket, which AOG hopes to move into, has been abandoned since the Co-operative Group dropped the shop in favour of a smaller unit nearby.
Sales at the shop were said to have been hit by the launch of a Tesco store on the outskirts of Fraserburgh.
Bridge of Don-based Tinto Architecture, which has designed the new church, had earlier submitted plans to convert the old shop into 30 housing units which would have also provided six affordable properties in the town centre.
But those proposals were withdrawn before going to local councillors for a decision in 2014.
That scheme would have involved the demolition of the unit which locals believe has become a perch for seagulls.
Plans for a replacement store also drew criticism from some residents in nearby College Bounds and Charlotte Lane who feared that noise from refrigeration units and delivery vans could keep them awake.