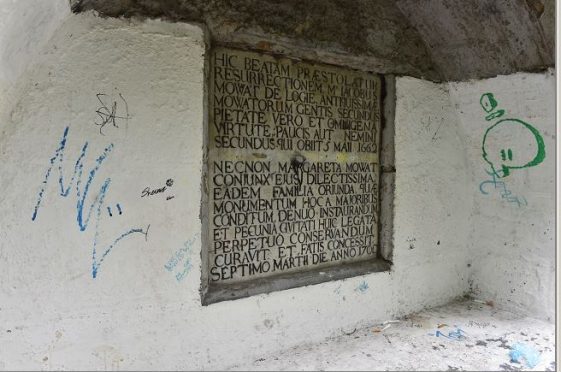 "Mindless" vandals have desecrated an historic Aberdeen church- even daubing graffiti on a gravestone.
The A-listed Kirk of St Nicholas has stood as a landmark in the city centre for hundreds of years.
But now the church has been vandalised with graffiti written on one of the historic grave stones.
Elsewhere in the churchyard stones have fallen over including a pink granite monument dedicated to a Victorian army colonel.
Another angel monument has been decapitated.
The earliest mention of a church on the site of the present Kirk can be found in a Papal document of 1157.
St Nicholas was chosen as the patron saint of Aberdeen because of the city's strong nautical connections- one of the attributed miracles of St Nicholas was rescuing sailors in a storm.
The churchyard is maintained by Aberdeen City Council and last year was used to host part of the popular Spectra festival of light.
In the summer months it is a popular tourist draw with visitors flocking to see the historic headstones.
In December it traditionally hosts the city's Nativity Scene ahead of Christmas celebrations.
Ambitious £5million plans are on the table to convert a disused part of Aberdeen's Mither Kirk into a heritage centre for the burgh records.
Dustin Macdonald of the city centre community council hit out at the "mindless" vandals.
But he added that some disrepair on the historic site was inevitable and that the headstones were rarely visited by surviving family.
He said: "The whole churchyard is really busy at the moment with the long days and bright nights so it's great to see so many people out enjoying this bit of history in our city centre.
"It is a shame that mindless vandals would go around and graffiti like this, especially something as sacred as a gravestone.
"I suppose with the tombstones that the longer people are dead the fewer relatives they have to look after their stone which is a real shame.
"I do see the council do a lot of work in the yard and cut the grass quite regularly."
Council infrastructure vice convener Brett Hunt said the vandalism was "completely disrespectful" and vowed to investigate.