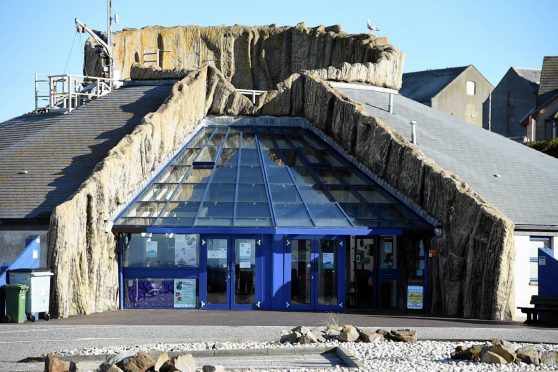 There is water back in the aquarium – and light at the end of the tunnel.
A north-east visitor attraction is one step closer to re-launching after workers flushed sea water back into its main holding tank.
Macduff Marine Aquarium has been closed for all of the summer holidays as efforts continue to refit the popular tourist attraction after 20 years of service.
And although staff have had to turn away visitors to the port this season, the attraction's manager has said that workers are finally seeing light at the end of the tunnel.
Claire Matthews was on-hand yesterday as water was pumped back into the aquarium in preparation for the return of sea life.
She said: "We're thrilled to see water going back in it again today.
"The water had to be pumped from the sea, up and over the roof and straight into the tank. We had a huge pump doing the job – and it still took over five hours to fill with 400,000 litres. The water will take a few days to settle out and we'll get it circulating around our filtration systems to clear it up.
"Next week the aquarium's dive team will be out collecting kelp and will dress the tank with seaweeds, creating the perfect environment for the fish to move back into.
"It's been a mammoth project so far and everyone working on it has put in a huge effort, but we're beginning to see the light at the end of the tunnel."
It is hoped that visitor numbers to the aquarium will spike over the next three years following the refurbishment.
The local authority's head of lifelong leisure and learning, John Harding, said the 12-week closure would cause a "hiccough" and drop in visitors this year, but anticipated footfall to continually increase from when the doors reopen at the end of the summer.
In the past 12 months 51,298 visitors have toured the aquarium.
And Mr Harding and his team anticipate the annual numbers can be boosted to 56,000 by 2020.