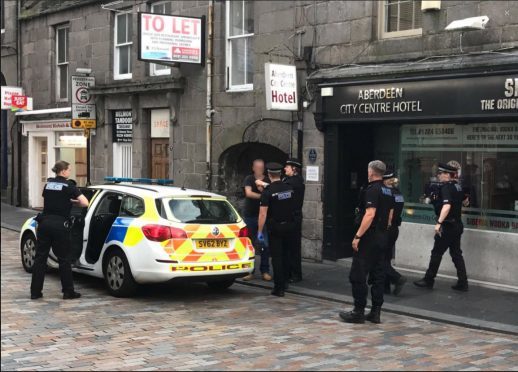 A man is understood to have led police on a chase after being caught brandishing a replica gun in the centre of Aberdeen.
Officers were called to a spot outside the McDonald's restaurant on Union Street at 6.55pm, after alarmed onlookers reported seeing him displaying the weapon to his friends.
Witnesses said that on spotting the flashing blue lights of arriving officers, the man made a failed getaway attempt by running across the busy road and onto Back Wynd.
People looked on in panic as he turned through Little Belmont Street before being apprehended outside the Siberia Vodka Bar on Belmont Street.
One woman who observed the frantic scenes said she heard the man shout the words "it's fake" with regard to the BB gun he was carrying.
But she said the item in question looked scarily real.
The woman added: "He was shouting 'it's fake' and we could see this gun in his hand.
"But it didn't look like a toy, it looked like it might have been the real thing.
"You wonder why anyone would be walking around with that though, even if it is fake."
Another witness said the man had been seen "flashing" the weapon about outside McDonald's.
They said: "Someone must have been worried and called the police, because they came along Union Street with the blue lights flashing.
"The man scarpered to the Back Wynd and through Little Belmont Street before they caught him.
"He started kicking off when the police were trying to lift him, but they got him into the back of the van.
"It was just a BB gun, but it looked real."
Officers remained on guard in the area for about two hours after the man was led away.
A spokesman for the police confirmed that a 47-year-old man was being held in custody following the incident.
He said: "A male has been detained, and investigations are continuing.
"Police were called to the scene at 6.55pm and the man was arrested within 10 minutes."