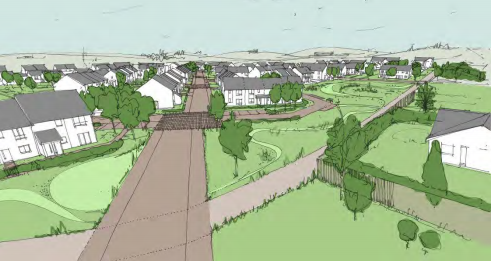 Councillors have approved plans to build a new 231-home affordable neighbourhood in Turriff.
Last month, councillors on the Formartine area committee delayed progress on the Springfield Properties scheme, raising concerns about increased traffic and the need for so many low-cost houses.
But yesterday, the committee met in Ellon to reconsider the planning application and voted unanimously to back the project.
Speaking on behalf of Springfield, Joe Geoghegan said: "The delivery of affordable houses is a key part of our business. We've delivered 1,500 since 2004 and that's been on a range of sites from 25% affordable up to 100%."
A crucial issue for the committee was whether it would be possible to accommodate so many people on the Meadowbank Road site. The land was previously earmarked for around 150 homes.
But Mr Geoghegan said that, although the number of number of properties on the 30-acre site had risen by around 40%, the number of extra bedrooms had only gone up from 442 to 489.
He also dismissed claims the change of layout would lead to more traffic. Council transport officer Ken Clark said the authority's traffic impact study showed that with low cost housing, only around 50 or 60 trips would be made during rush hour each day.
Nevertheless, Mike Rawlins, chairman of the Turriff and District Community Council, warned the increase in houses in the area would put a strain on infrastructure.
"We need to remove the smoke and mirrors of 'bedrooms' and speak about dwellings," Mr Rawlins said. "Bedrooms don't require infrastructure, dwellings do.
"A five-bed house needs two bins and one recycling caddy. Five one-bed houses need 10 bins and two caddies."
But, despite the concerns raised by Mr Rawlins, and a suggestion that Turriff's sewage system couldn't cope with the new development, the committee backed the plans.
Local councillor Iain Taylor said: "The provision of affordable housing is good."
And council leader Jim Gifford added: "It's an interesting problem in front of us. Across the council, we have an ambition to build more affordable houses – the waiting list is thousands long. But it's about the delivery of it."
Mr Gifford called for a "robust" plan for the houses to be built quickly, and with oversight from the committee.