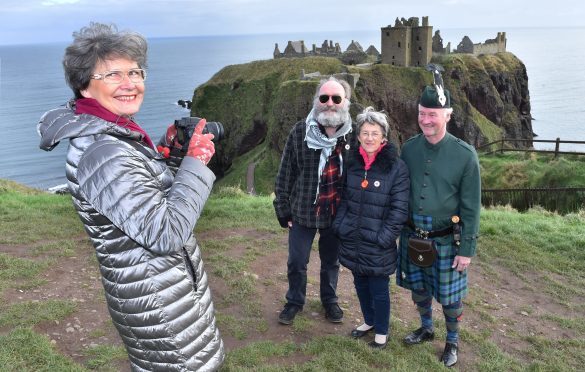 Stonehaven is edging towards its first twinning agreement after a chance encounter and some heavy rain paved the way two years ago.
When the deputy mayoress of Acheres, a small French community on the outskirts of Paris, visited the town with her husband while holidaying in Aberdeenshire, she had planned to play a round of golf.
However, the rain that day forced Veronique Forensi to "give the golf a miss" and she walked into the tourist information centre instead.
Speaking at the launch of the twinning initiative yesterday, Mrs Forensi said the unplanned visit to the tourist centre had paid off.
The mayoress attended the event at Dunottar Castle with Acheres twinning association president, Sue Ajoumal, and some teachers from the local primary school,
Stonehaven community council chairman Phil Mills-Bishop said "significant progress" had been made during the two-day trip while welcoming the guests.
Mrs Forensi said: "I can't play golf in the rain because my glasses get steamed up, so I walked in the town.
"I started talking to the girl in the tourist office and it was the catalyst to the connection from there eventually with Phil and the community council and now the twinning."
Sporting links have already been forged between the rugby and tennis clubs and letters of commitment were exchanged yesterday.
Mr Mills-Bishop said: "Whatever the political back drop may be; with our hard or soft Brexit, we will have this relationship with you. And we say 'Merci'.
"We look forward to sharing ideas for community and commerce and hope that we will sustain this in the long term."
The final twinning documents will be signed in Acheres next year after which plans will be developed for rugby and golf tours, tennis tournaments and school exchange trips.
Mr Mills Bishop added: "I am due to visit with a Stonehaven delegation Acheres-Paris in May of next year to meet the Mayor and sign the first part of the Twining and concordat.
"The Mayor has then agreed to come to Stonehaven at the time of the Feen Market next year, to reciprocally sign up at Dunnottar Castle, the concluding parts of the Twining and Concordat."