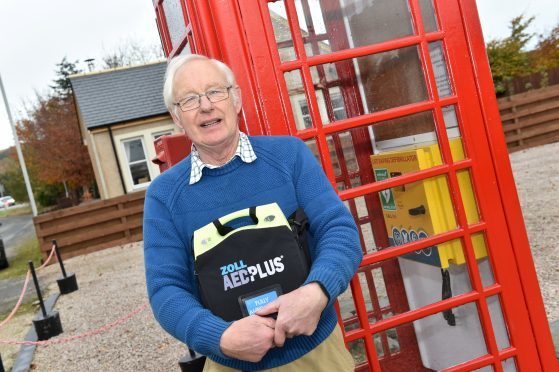 A small rural community in Aberdeenshire could be the first to benefit from a potentially life-saving road sign.
The unused red telephone box in Colpy has recently been refurbished and fitted out with a new defibrillator, following months of fundraising and "hard slog" from one community-minded resident, Greg Manning.
And now, transport bosses are considering installing a 'yet to be designed' defibrillator sign to replace the redundant telephone sign, which is currently on the main A96 Aberdeen to Huntly trunk road.
The sign has been covered over and no longer offers directions to the nearest public telephone.
However, Mr Manning has been asking for it to be replaced for "months" and welcomed the news the plan was now being considered.
He said: "I brought it to the attention of Transport Scotland back in February and they then covered over the phone icon on the sign.
"So I extremely pleased they are considering updating it to reflect what is now inside the telephone box.
"It is mainly for people who could fall ill at one of the nearby tourist attractions or even people passing by on the road.
"Kellockbank and Morgan McVeighs are looking at getting their staff trained up and I have signage on order to tell people where the nearest defibrillator is."
The life-saving equipment is registered with the Scottish Ambulance service and an operating code would be given out to anyone phoning them in an emergency.
Mr Manning single-handedly stripped down the iconic amenity and spent "too long" dealing with the bureaucracy of setting up an electricity supply to the equipment.
He added: "It was a very steep learning curve. I'm not sure why no-one has published a guide to help communities with the ins and outs of installing these things. It has been very problematic.
"I had no idea I needed to register it with the ambulance service, for example. "
There is currently no authorised traffic sign for a defibrillator, but last night a Transport Scotland spokesman confirmed they would now be looking into "available options".
He said: "The Minister for Transport is considering proposals for trunk road signage on the A96 to the defibrillator in Colpy, Aberdeenshire.
"We will continue to keep the community council informed."