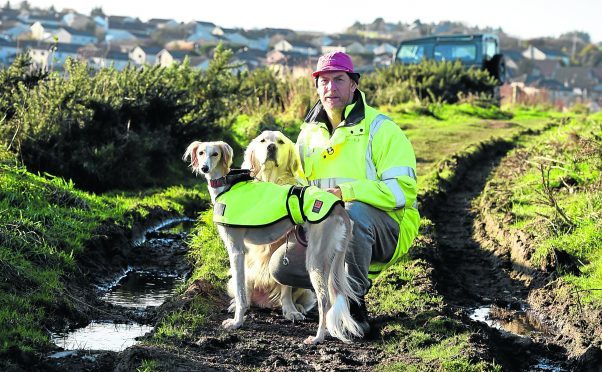 Calls have been made for tougher rules to be implemented at a north-east farm after a dog walker claimed he was narrowly missed by a rifle pellet.
Derek Wood, from Newtonhill, was out walking his two dogs along a popular north-east route at about 8pm on Thursday night when he claims he felt a bullet whizz past his head.
The 64-year-old, who was wearing a head torch because it was so dark, began shouting to attract the shooter's attention.
Mr Wood claims the person responsible found him, accompanied by a second man, and said he had a permit and had been shooting rabbits on the hill.
However, the former Merchant Navy ship captain is adamant the shots were directed at the farm track he was walking along, which is a right of way.
He said: "I was still shaken up when I went to bed that night.
"I heard this noise and realised it was a bullet going past my face, then another one.
"I know that part of the track intimately, I use it two or three times a day. The hill is covered in gorse, there's no way you could see rabbits on it.
"I think they were aiming at a rabbit closer to the track."
However, a subsequent police investigation found that the rifleman had a permit and also permission to use the land for shooting rabbits, meaning no further action could be taken.
North Kincardine councillor Ian Mollison said that, if true, the incident was extremely concerning.
He added: "When you go for a walk on a public right of way, you don't expect to be shot at, a very serious accident could have happened.
"I would hope the police would take strong action rather than saying there's nothing more they could do."
Landowner Sandy Shepherd responded he was unaware of the incident, so could not comment on it.
Sergeant Mark Conner said: "We were called in relation to alleged dangerous rabbit shooting on private ground in the Newtonhill area.
"Inquiries were carried out and we are content that there is nothing to suggest anything malicious and there is no criminality.
"The involved parties have been kept fully updated. We continue to urge anyone with concerns to contact police on 101. In an emergency, dial 999."