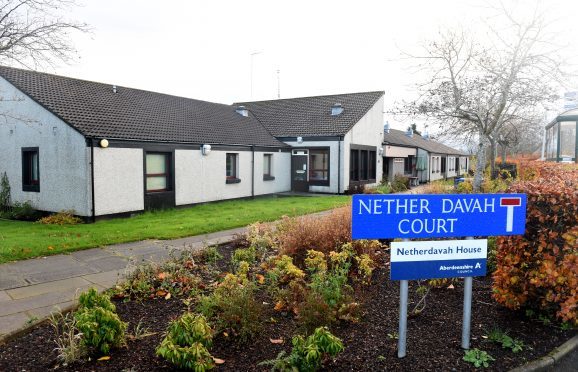 A pensioner who died after a fire broke out at a sheltered housing complex has been named by police.
Elsie Riddell, 86, was a resident of the council-run Nether Davah House housing site in Inverurie in the Golf Crescent area of the town.
Investigations are still being carried out into the cause of the fire which broke out at about 5.30pm on Wednesday in the kitchen of her one-bedroom flat.
Ms Riddell was taken to Aberdeen Royal Infirmary, where she later died as a result of her injuries.
Detective inspector Stewart Drummond, who is leading the inquiries, said: "An investigation into the cause of the fire is still ongoing, however there are not believed to be any suspicious circumstances. A report will be sent to the Procurator Fiscal in due course.
"Our thoughts are with Elsie's family at this very sad time."
Operated by Aberdeenshire council, Nether Davah House has 12 one-bedroom and one two-bedroom self-contained flats, and 48 linked bungalows.
All of the properties are connected to a community alarm system.
The council's head of housing, Rob Simpson, said: "It is with the deepest sadness that we learned of the death of a resident in one of our sheltered housing complexes.
"Of course, the circumstances will be the subject of a full investigation which will need to run its course before we can comment further on what happened.
"Our thoughts are with the individual's family and all who knew her."
The fire started in the kitchen of the Ms Riddell's flat, and was quickly extinguished after emergency services arrived.
Detectives, uniformed officers and a fire investigation unit were at the scene for several hours.
A spokesman for the fire service said: "We were alerted to a report of an automated fire alarm within a property at the sheltered housing complex at 5.36pm.
"A joint investigation with Police Scotland into the cause of the fire is still on-going but it is not considered suspicious."
Councillor for Inverurie and district, Judy Whyte, last night said: "This is sad news, I'm sure I speak for the whole community in saying  our thoughts are with the family and friends as well as neighbours and carers of the lady who has so tragically died.  I send my deepest condolences."
Fellow councillor Neil Baillie also said he was saddened by the news and added: "It is a tragedy and my condolences go out to the family of the lady concerned and to all the staff and residents of the facility."