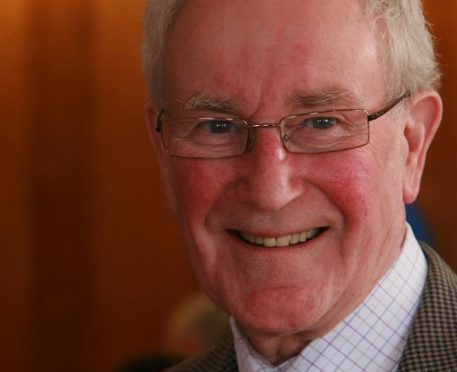 One of Scotland's best-loved broadcasters and champions of traditional music has been recognised by one of the country's leading arts institutions.
Doric doyen Robbie Shepherd, whose BBC radio show Take the Floor championed traditional Scots music for more than three decades, received an honorary doctorate in music from the Royal Conservatoire of Scotland in Glasgow.
The Press and Journal columnist collected his award at the academy's St Andrew's Day celebrations last night.
Speaking prior to the event, the 81-year-old said he was stunned when he learned he would be given the degree.
He said: "As an average singer and a nearly non-musician I feel really honoured that the conservatoire has chosen me.
"Some people might think that the conservatoire would just focus on the likes of ballet and opera but they have a very strong syllabus on folk music and spoken word.
"I've tried throughout my career to keep pace with the changes and developments in Scottish music, going back to the folk revival of the 1960s.
"There's such a rich heritage to the music and if I've done anything to be a promoter of that then it's a real honour to be recognised for it."
Born in Dunecht, Mr Shepherd's programme Take the Floor entertained audiences for 35 years, from 1981 to 2016, and is the longest-running Radio Scotland show ever.
Made an MBE in 2001, he continues to write a weekly column for the P&J in the north-east's "Mither Tongue".
He was also a Highland Games stalwart and commentated at the Braemar Gathering for more than 40 years before stepping down last year.
Mr Shepherd was presented with his degree by Jeffrey Sharkey, RCS' principal.
He said: "For more than three decades, Robbie entertained generations of traditional music fans on Take the Floor, his knowledge, enthusiasm and humour transmitting through the airwaves into thousands of homes across the country.
"Robbie is a great ambassador for Scottish traditional music and has devoted his career to supporting and promoting the genre and its artists and we are delighted to bestow upon him an honorary degree of doctor of music."