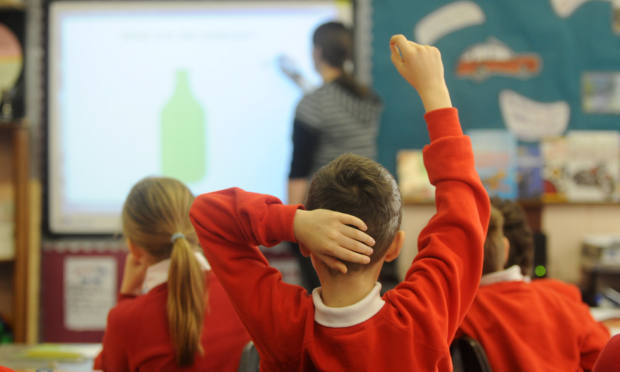 Friends will be split up and parents have been left "devastated" after Aberdeenshire Council last night confirmed the abrupt axeing of one of its primary schools.
Longhaven Primary School, near Peterhead, will close its doors for what could be the final time next Friday following a year-long struggle to recruit a new headteacher.
A spokesman for the council said it no longer had the staff numbers to keep classes running after Easter.
The move has left parents of the school with just one week to arrange for their children to be enrolled elsewhere.
Last night, one said everyone associated with the school had been left "devastated" by the decision.
Parents were pulled into a special meeting with the authority's head of education, Vincent Docherty, on Thursday night, when the news was broken to them.
Mum Lynda Thomson, who has an 11-year-old at the school, said parents were not given a chance to question the move.
"The problems started a year ago when they seconded our headteacher out to Port Erroll," she said.
"We've had temporary teachers in place since, but these teachers can no longer continue in that role, so we've been given one week to find somewhere else for our children.
"Every single one of us feel it is completely unreasonable to ask us to find a new school within seven days.
"I have a son who is on the autistic spectrum and so a transition is vitally important to him. It needs to be a lengthy transition to stop anxiety. What is happening is crazy.
"It was done very clinically. They didn't even entertain our arguments and immediately shut us down. There was no empathy. We're utterly devastated and disgusted."
The decision has also angered local councillors.
Peterhead South and Cruden Councillor Stephen Smith said he was told on Wednesday there may be "an issue" with staffing.
"Parents have been in contact with me and are clearly shocked at the short notice given," he added.
"I am seeking answers to how Aberdeenshire Council has allowed a situation to arise where a school can be staffed and fully-functioning one week and the following week the parents are told there are no teachers to staff it and are asked to choose a new school for their children.
"This is not acceptable."
Ward colleague Stephen Calder echoed those thoughts, saying: "It's just not enough time for the parents or pupils.
"It's disruptive to their social lives and education and it is very unfortunate."
Mr Docherty confirmed there had been significant "recruitment challenges" at Longhaven over some time.
"Unfortunately, we have been unable to recruit teaching staff for Longhaven and this means pupils will need to attend other local schools after the Easter break," the official said.
"The school currently has a very small roll and we have met with parents and employees to discuss alternative arrangements.
"While we regret the inconvenience it's important that we find an educationally beneficial solution for all concerned."
A spokesman for the council added that non-teaching staff at the school will be offered alternative duties until the long-term future of the school can be determined.