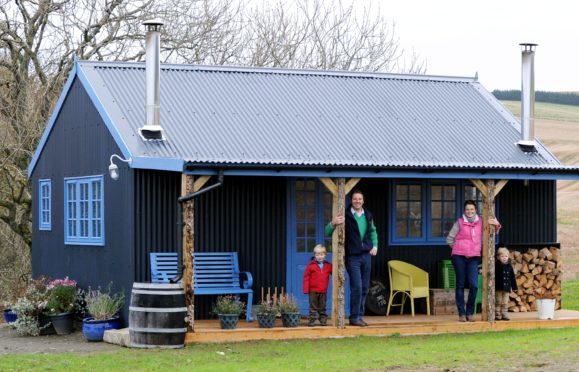 A glamping bothy which was up for a national award last year has been given retrospective planning permission.
The Sheep Shed is owned by James and Jane Foad, and was a finalist for Shed of the Year in 2017.
The couple bought their 100-acre holding at Newton of Begshill, Drumblade, near Huntly in 2011 and built two self-catering bothys.
However, the couple did not have consent for the structures, and had to seek retrospective permission – which was yesterday approved by the Marr Area Committee.
After the decision, Mrs Foad explained that they didn't think they would need consent before building.
She said: "We are delighted with the decision and very relieved. We have had so many visitors; many are returning again and again and have written letters of support for the application.
"We really had not realised that the two sheds would require planning permission as they are completely moveable – if we ever sell up – they will be coming with us."
Councillors agreed to grant permission for the two sheds despite it being a departure from the Local Development Plan in that it is "not related to a settlement".
Huntly councillor Robbie Withey said: "I live under the theory that rules are there to be broken. This development is of particular social and economic benefit to the area, which is need of economic improvement.
"This type of venture would not work if it were related to a settlement; the idea is to get away from it all."
VisitScotland had written in support of the application and said glamping was one of the most popular searches on their website and there was a limited amount of that type of accommodation within Aberdeenshire.