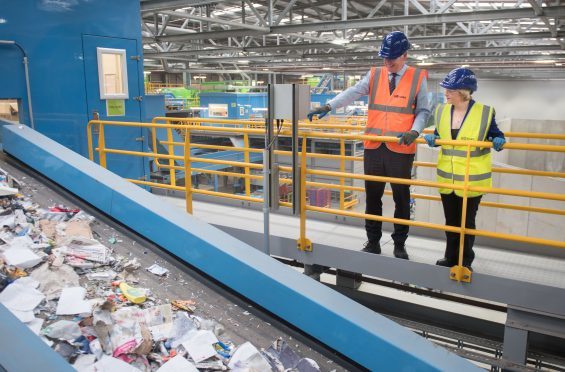 Recycled waste produced in Aberdeen travels as far as 608 miles to get fully processed after undergoing initial procedures in a new city facility, it has emerged.
Aberdeen households produce over 96,000 tonnes of waste every year and roughly two thirds of it is sent to the Altens East recycling and recovery establishment.
The plant, run by SUEZ on behalf of Aberdeen City Council, opened last October and processes up to 60,000 tonnes a year, effectively helping the city to meet the Scottish Government recycling target and saving residents in the region up to £6 million in landfill tax.
But a local politician has criticised the process – as a list of eventual destinations for the waste was revealed through Freedom of Information legislation.
The material is dived into recyclable and non-recyclable upon arrival at the Altens East, with non-recyclable waste turned into fossil fuels by the refuse derived fuel facility located next to the main plant.
It has emerged, however, that other items such as glass, ferrous metals, paper, cardboard and plastic undergo further separation and compression processes at the end of which they are sent to other facilities around the UK and even as far as Arnhem in the Netherlands to be given a new life.
Though the process is understood to be fairly commonplace, the local branch of the Green Party said it was deeply unhappy about the treatment of waste in the city.
Co-convener Guy Ingerson said: "A £150million incinerator is being constructed, which we believe will act as a disincentive to recycling and is a colossal waste of money at a time of cuts.
"It also endangers local public health with dioxins, acidic gases and heavy metals.
"On top of this white elephant we are sending our recycled products to as far away as the Netherlands. This flies in the face of our climate change and other environmental commitments.
"Scottish companies should be prioritized as part of a wider industrial strategy, working in partnership with the Scottish government.
"It is time this administration took its fingers out of its ears."
Altens East Recycling and Resource Facility Production Operation Manager Colin Forshaw, however, hailed the increase in the city's recycling.
He said: "It really is encouraging to see that the recycling rate in Aberdeen has increased by 25% since the roll out of the new recycling service 12 months ago and the opening of our new state-of-the-art recycling facility in Altens East."