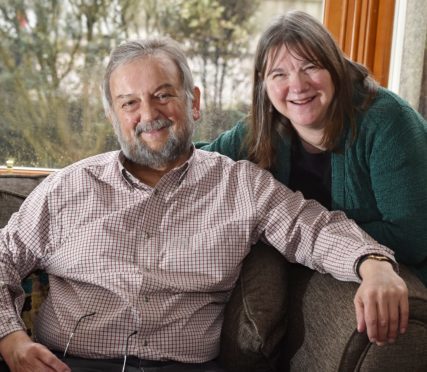 Despite a rare diagnosis, and an even rarer treatment programme, John Atkinson is sticking to his mantra of never giving up.
It was purely by chance that the 67-year-old Aberdonian found out he had chronic myelomonocytic leukaemia (CMML), after some unusual bruising was spotted during a routine nurse appointment in September 2016.
It was then "quite a rollercoaster" for the specialist tax advisor, who could soon become Scotland's oldest person to be given a stem cell transplant.
Shortly after his diagnosis, he found himself encountering a four-month stay at Aberdeen Royal Infirmary, where he was given an experimental chemotherapy treatment.
"They said they were surprised I was still walking," he said.
"I went into hospital in September and got out just before Christmas, and I looked like a bag of bones."
Doctors told the patient that the cancer could come back at any time, but he was also advised that a stem cell transplant could potentially provide a more permanent cure.
A perfect tissue match was soon found for him, and he prepared to make his way to Glasgow for the procedure.
But when he arrived at the specialist Beatson centre he went into shock – with what doctors first believed was a type of sepsis – and ended up at the other side of the city in intensive care.
He travelled back down to the hospital for a second attempt after recovering, but had a similar reaction.
He was rushed to hospital during his three attempts to get the transplant.
Mr Atkinson said: "My consultant in Aberdeen said it might have to do with something called my mast cells, and found a drug in America which could help," he said.
Currently, Mr Atkinson is the only person in Scotland to be given the medication, which appears to be keeping the symptoms at bay and making the prospect of the transplant much more feasible.
He is now on course to become one of the oldest people in the UK to have ever been given a stem cell transplant.
"We can see if the drug has helped to control it and, if it has, I'll be going back to Glasgow," he said.
Mr Atkinson signed up for Brave following encouragement from some of the Friends of Anchor staff.
Since then, he has raised hundreds of pounds for the charity from generous donors keen to see him strut his stuff.