Huge crowds turned out for Aberdeen's biggest ever Kiltwalk yesterday, raising more than £400,000 for good causes.
More than 2,230 people took on one of three planned routes during the event with 273 local charities benefiting from their efforts.
All of the walkers signed up for either a five mile, 14 mile or 26 mile trek, heading towards the finish line from either Potarch, Crathes or Bieldside.
Aberdeen Kiltwalk expected to raise around £350,000 for good causes in the north-east
Kiltwalk organised reversed the route this year to allow all of the walkers to congregate in the city at the end of their walk. They were congratulated at the end by cheering crowds.
Kiltwalk chief executive Paul Cooney said: "Every one of the walkers should be very proud of themselves. So many many have felt such a sense of achievement.
"There was a great atmosphere and a sense of community and everyone has been so helpful."
All of the money raised by yesterday's walkers has been topped up by Sir Tom Hunter and The Hunter Foundation.
The philanthropist has agreed to add an extra 40% to every donation, turning £1 into £1.40.
As the walkers raised more than £300,000 on the day, the final total is expected to be over £400,000.
Sir Tom said: "There is nothing more inspiring than seeing thousands of walkers in a sea of tartan, encouraging each other to cross the finish line to raise a huge amount of money for the causes they care about."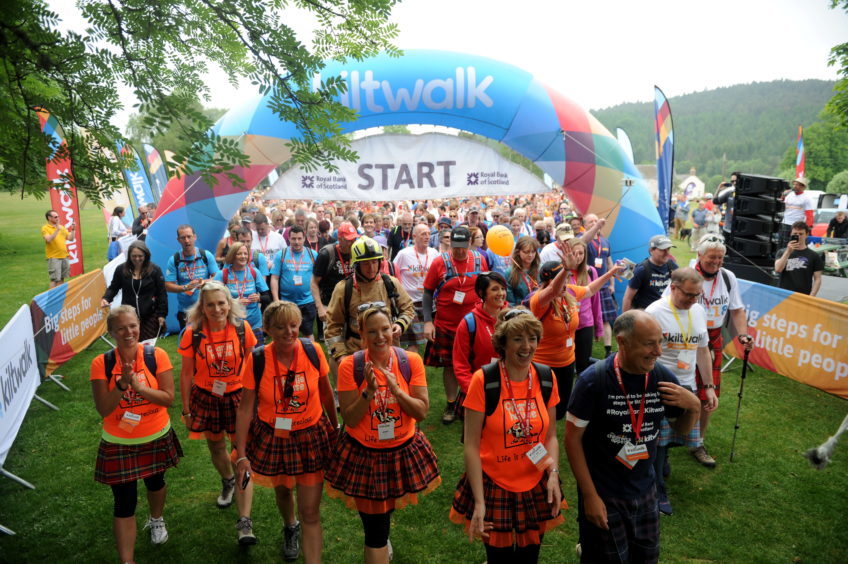 Rachel Murison, of Peterculter, completed the walk with her dad as part of a mammoth fundraising campaign for cancer charity Friends of Anchor in memory of her late mum.
Since starting her challenge in May 2016 she has clocked up 2,000 miles, lost eight stone and raised more than £1,100.
She is hoping to tackle all four Scottish Kiltwalks by the end of September.
Mrs Murison said: "Every step I take is for my mum – that's what I tell myself when I'm struggling.
"I can do it and I will, because my mum is watching over me.
"I have a family, I work full-time but I still find the time to walk every day.
"I don't care what anyone says, if you want to do something you will make the time."