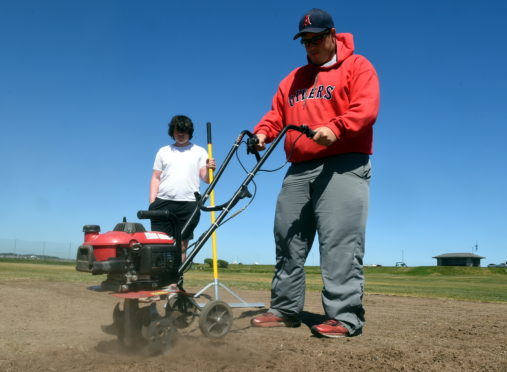 Work has begun on Aberdeen's first-ever permanent baseball field.
Bases and a pitcher's mound are under construction on land beside the Linx Ice Arena on Beach Esplanade.
Aberdeen Baseball Club is also eyeing a 131ft wide and 20ft high backstop net which would prevent any balls from straying too far from the field.
The idea was thought up by club founder Stephen Evans, 29, who was tired of his team borrowing facilities to enjoy his passion.
He said: "Our first season we played at Hazlehead using two football pitches.
"The ground was really muddy and uneven so we started looking for a more permanent home."
Following discussions with Sport Aberdeen, the group was given permission to start constructing a baseball field.
The team is now working to ensure the land is perfectly flat in order to prevent baseballs bouncing unpredictably and becoming unsafe.
Mr Evans travelled from his hometown of Fort Smith, Arkansas, five years ago to study history at Aberdeen University and founded the club shortly after.
It was not long before the club played its first scrimmage with an eight-man squad.
Since then the club has grown with more than 30 men and women, and around a dozen youngsters regularly taking part in games.
Its founder said he is not surprised that the sport is growing in popularity.
"I knew from a young age how, with baseball, you can get the bug," Mr Evans said.
"It lights a fire under you.
"The hard part is getting people out here to try it and once they do they all love it.
"Some people see a game on TV or go to the States for one then come back here and want to try it out."
Mr Evans is hoping the field will form the starting point for a long history of the sport in the city. But he has also acknowledged that its north-east roots go back further than many may expect.
He said: "We are naming it the George W Chalmers field.
"He was born in Aberdeen in 1888 and eventually moved to America where he played for the Philidelphia Phillies.
"He became the first European-born pro baseball pitcher to start a game at the World Series."