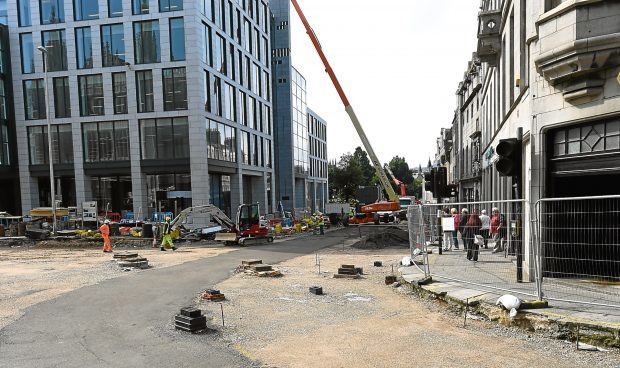 Broad Street will be open to the public on August 1, council chiefs announced last night.
New signs are going up on Upperkirkgate and the Gallowgate this week in preparation for the re-opening of the city centre thoroughfare.
The £3.2 million partial pedestrianisation project, which will leave the road only open to buses and bikes, has suffered numerous delays and was first scheduled for completion in October last year.
The signage on Upperkirkgate will remind motorists that Upperkirkgate and the Gallowgate are normal roads and vehicles are not allowed to stop and drop people off.
Council culture spokeswoman Marie Boulton said: "It's fantastic the new pedestrian-priority area in the city centre is to be open soon.
"The area will make the east end of the city centre more attractive to visit and live, alongside the new facilities in Marischal Square, the redeveloped Art Gallery and Cowdray Hall with new roof-top café and galleries, revamped Union Terrace Gardens and landscaping at Schoolhill in front of the gallery."
The traffic lights at Upperkirkgate and Gallowgate are to be removed and replaced with a shared surface for vehicles and a roundel – a mini-roundabout where pedestrians are given priority.
There will be a toucan crossing at the Union Street end. The 'road' and 'pavement' areas on Broad Street will be marked-out by different-coloured stonework and tactile areas.
The cost of the work is being covered by the City Centre Masterplan budget, Marischal Square developer Muse, and Sustrans Scotland.
Head of infrastructure at Sustrans Scotland Dave Keane said: Sustrans Scotland has been working in partnership with ACC to make Aberdeen a better place for people.
"We encourage people to take advantage of the new Broad Street and look forward to the opening in August."
Familiarisation work is to be carried out before the road opens with First Aberdeen, Stagecoach and the Disability Equity Partnership.
George Street and Harbour SNP councillor Michael Hutchison said: "I'm hopeful that this latest completion date will actually be met given the work that's ongoing.
"I know I've been critical of this project overrunning but I am looking forward to it being completed.
"I think it will be a welcomed boost to the local businesses and I hope that they are able to pick up again soon."