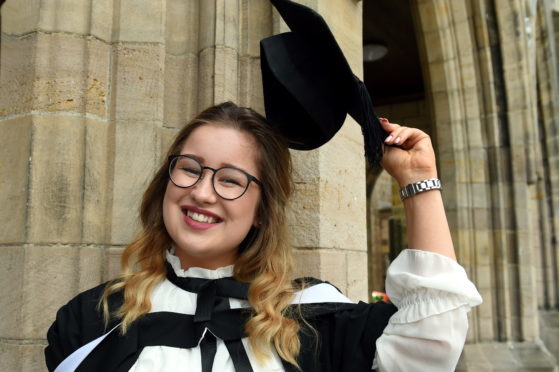 Anna Reid, from Dyce, has completed a degree in politics and international relations.
But that was nothing compared to her second year endeavour to climb Africa's highest mountain.
Ms Reid, 21, helped raise £3,000 for Childreach by climbing Mount Kilimanjaro with a team of fellow Aberdeen students.
She said: "It was something on my bucket list and it was amazing to get the opportunity to climb it through the university. It was mentally the hardest thing I've ever done, but the most amazing achievement and will be my favourite memory from the last four years."
Two years later, the former Hazlehead Academy student can hardly believe she is graduating already.
"The dissertation was the biggest challenge, especially being left on your own and having the confidence to do it yourself", she said.
"It was gruelling, but I got it done. Graduating now doesn't feel real, the past four years has just flown by."
She now plans to move to somewhere slightly more exotic than Westminster before diving into the world of full-time politics,
"My boyfriend studies Spanish and English at Aberdeen and will be taking his year out. I'm going to join him and get to know the old town of Malaga. There's nothing to stop me now that I've graduated."