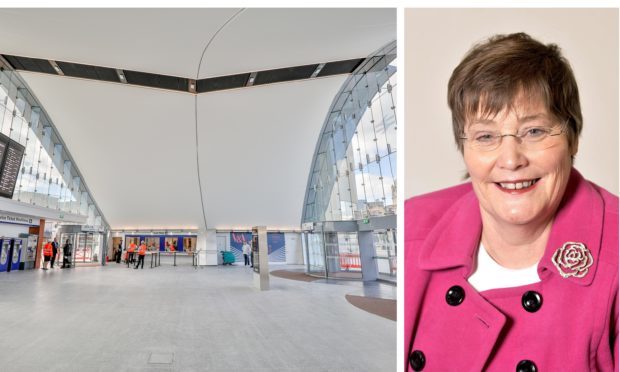 A former MP, who uses a wheelchair, was left stranded on the platform of Dundee's brand new train station after the lift broke down.
Dame Anne Begg was visiting Dundee from her home in Aberdeen for a meeting in the city on Tuesday morning.
The new entrance to Dundee railway station, with the lift which was out of order to the right hand side of the stairs.
As she arrived into Dundee's newly revamped, multi million pound train station she was approached by members of staff who informed her the only accessible lift had broken down.
Dame Anne was born with the rare genetic condition Gauchers disease, which causes her bones to break regularly, and has used a wheelchair since 1984.
Initially, staff offered her the opportunity to continue her journey through to Leuchars, where she would then be driven by taxi to her destination.
But due to the short time between her arrival in Dundee and the beginning of her meeting, she said this alternative was unworkable.