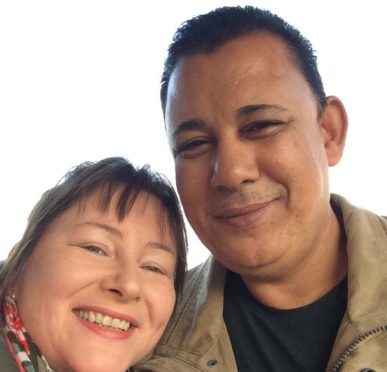 An Aberdeenshire woman woman claims she and her Egyptian husband feel "less than garbage" after he was denied entry to the UK for a family wedding.
Heather Brand, who is originally from Stonehaven, and husband Mohamed Daadour live in Cyprus and were planning to return to Aberdeen to watch her nephew Derek Brand tie the knot on August 25.
With his wife as a sponsor, Mr Daadour, 57, had applied to the Home Office for a temporary visitor's visa, costing him 170 euros (£150), in the hope he would be able to come to the north-east for three weeks.
However, despite sending his passport and a number of supporting legal and financial documents – including bank statements and a marriage certificate – his application was rejected.
The immigration department deemed there was insufficient supporting evidence to prove he was a genuine visitor who would leave at the end of his visa term.
Now the pair, who have been together for six years and married for 18 months, have been forced to cancel their flights over to the UK.
The couple – who have lived in Cyprus since September 2016 – are now waiting to hear if the decision will be overturned after enlisting the help of Andrew Bowie, West Aberdeenshire and Kincardine MP.
Mrs Brand, who works as an IT consultant, has branded the reasons for refusal as "utter tripe" and says the couple feel "humiliated, degraded, violated, insulted".
She also claims this kind of treatment is widespread and needs to be highlighted.
"Mohamed says he feels less than garbage – my husband made to feel less than garbage because all we wanted was to attend my nephews wedding in Aberdeen.
"Since we got the refusal I have spoken to a Scottish friend who lives in Spain with her Senagalese husband and they always get refused the first time round.
"This is absolutely criminal. That I can't come to my nephew's wedding with my husband because of this hostile environment around immigrants."
The rejection has caused additional upset as Mrs Brand's mother has dementia and is in a nursing home.
"She has met him and I want her to see him again while she still remembers," she added.
Mrs Brand expects to hear back from the Home Office by the end of this week. However, this could still mean her husband cannot attend the wedding because of the length of time it will take for the visa to be issued.
Mr Bowie said: "My office has been actively working on behalf of the family to try and resolve this issue as soon as possible."
A Home Office spokesman said: ""Mr Daadour's visa was refused because he did not provide sufficient evidence to demonstrate that his personal circumstances were as stated."
"It is open to Mr Daadour to make a fresh application addressing the reasons for refusal."