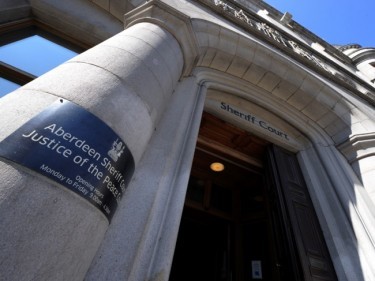 A man who booted the mother of his four children in the back as their decade-long relationship turned sour told police he had launched the attack "jokingly".
Paul Reid was fined £400 yesterday after admitting assaulting Nicola Reid at their home on Provost Rust Row in Aberdeen.
The city's Sheriff Court heard the 32-year-old, who now lives on Linksfield Court, lashed out after a disagreement.
Procurator Fiscal Gavin Letford described the pair's relationship as "volatile, with both responsible for causing arguments".
He added: "At 10am on May 21, the complainer was in the hallway and heard a loud bang as the front door banged forcibly open.
"The accused entered and the complainer asked him to leave.
"She turned her back to walk into the living room only for the accused to run to her and kick her in the lower back.
"When interviewed by police regarding the alleged offence, Reid admitted acting this way towards the complainer, but said he had acted 'jokingly' and that his partner 'suffered no injuries'."
Defence agent Michael Horsman told the court that Reid had been going through a difficult time.
He said: "My client suffered from depression at the time of the offence and was smoking cannabis.
"He's taken steps to improve his circumstances and, as of June, has stopped using cannabis. That has had a marked impact on his mental health.
"He hopes they can get back together in due course."
Sheriff Philip Mann told the accused: "It won't be long, if you carry on like this, before custody will be considered."