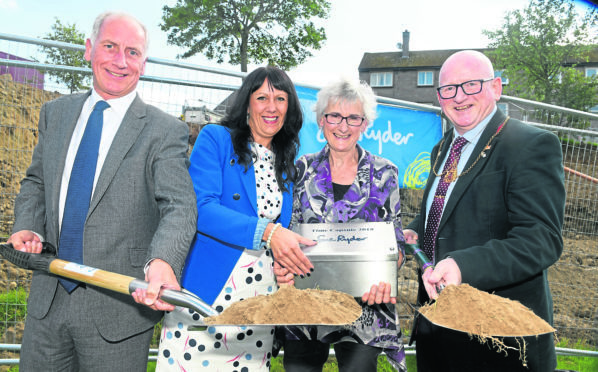 Building work has started on a major expansion to a unique facility that offers round-the-clock care to people with a range of neurological conditions in Aberdeen.
While many are still unaware of the work carried out at Sue Ryder Dee View Court in Kincorth, dozens of residents – and their friends and families – regard it as a lifeline.
The organisation cares for people with conditions including multiple sclerosis, Huntington's disease and motor neuron disease, but demand is now greatly outstripping supply.
But yesterday the ground was broken on a £3.9 million expansion that will increase the number of residents it can care for from 24 to 44.
The facility is the only centre of its kind in Scotland and its new wing is expected to be operational by August 2019.
Pamela Mackenzie, director of neurological services at Sue Ryder, said: "We have 35 people on our waiting list so this is much needed.
"By providing more beds and creating additional supported living apartments, we will be able to provide ongoing support for a larger number of people in the community.
"The apartments are geared towards the rehabilitation of those with neurological conditions who are able to live more independently, but still need close access to care."
Fundraising for the project only began last year but already £2.34 million has been raised towards the ambitious £3.9 million target.
Chairman of the appeal board Trevor Garlick said: "People have been running races and even doing skydives to help us reach our goal.
"And we have been supported with personal donations right through to corporate sponsors like Nexen and BP and a number of trusts and foundations.
"It has all been tremendous. I don't think we envisaged we would be this far on already."
As part of the turf cutting ceremony yesterday, a time capsule containing an eclectic range of items was buried under the new extension.
These included a letter signed by The Queen when she visited the centre last year, photographs of current residents and staff, an ordnance survey map of Aberdeen and a copy of The Press and Journal.
Further information about the Dee View Court appeal can be found at
sueryder.org/deeviewappeal
.