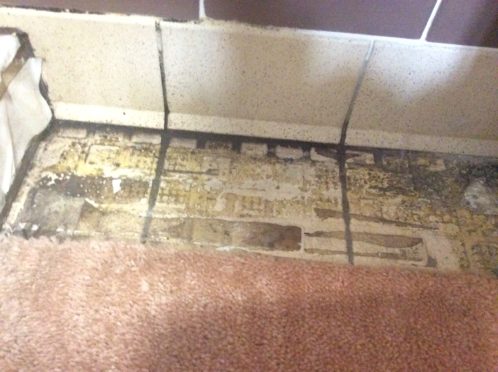 The family of a woman who has waited 12 years for a new bathroom have spoken of their despair after losing patience with a council's "false promises."
Visitors to the property have been "horrified" at the state of the bathroom which is in dire need of renovation, with damp and mould spreading along the floor and walls.
Pamela Moyse, 89, moved into her home at Hamewith Cottages in Alford in 2006.
Her daughter, Helen Southwood, said Aberdeenshire Council, which runs the sheltered housing development, had promised at taht stage that the bathroom at Ms Moyse's property would soon be upgraded.
But 12 years later, Mrs Southwood says she has lost patience with the council.
She said: "I have had false promises from Aberdeenshire Council for years now, but to no avail.
"My mum has been in touch with the council regularly over the last 12 years to try and get this sorted.
"They really don't care – otherwise they'd have done something by now. They were going to get it sorted earlier this year, then it was August, then it was September.
"We are in complete despair now as the promise was for January 2018 and here we are in September with no date given."
She added: "Mum had a rather nasty accident in May, which has made things even worse.
"It's so dangerous in there, you have to step over a ledge to get into the shower.
"Even her physio said it was dangerous. And that's not to speak of the filth.
"It was only in May when I went there that I realised just how bad it was and started to get more involved myself."
Local councillor Robbie Withey was enlisted to help by Mrs Southwood, but despite his best efforts, Ms Moyse is no nearer getting her bathroom replaced.
"It's just so wrong that she has to live like that," said Mrs Southwood, who lives in Buckinghamshire.
"She keeps the rest of the flat so lovely, but anyone that comes in to the bathroom is horrified."
A spokesman for Aberdeenshire Council said the bathroom will be upgraded in November.
He added: "While there have been unavoidable delays in our programme, we have endeavoured to be open about these and ensure that tenants understand both the reasons and the projected timescales for completion."