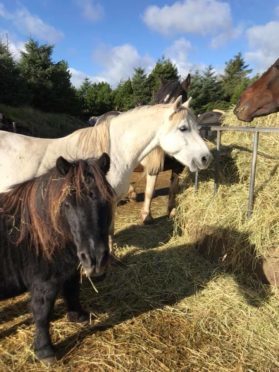 An animal charity's premises will be transformed after it was given a donation from an Aberdeen-based oil company.
Staff at Willows Animal Sanctuary in Fraserburgh are celebrating after receiving funding to carry out vital renovations and repairs to their centre.
The money, donated by oil and gas company Apache North Sea, will allow the centre's owner to build a visitor centre, repair the site's coffee shop, revamp its kitchen and start selling hot food.
In addition to improving visitor facilities, the funding boost will also help staff purchase food supplies for the sanctuary's 450 animals.
Earlier this summer, drought damage to local crops led to a significant increase in the price of hay bales and the centre admitted it was struggling with the financial impact.
A public appeal was made to cover the costs, but money donated by Apache North Sea now means the campaign can be halted.
Vikky McDonald, yard manager at Willows Animal Sanctuary, offered all who had donated to the hay bale campaign a refund, which many people turned down.
Clare Jackson, from Banff, said: "I donated, but keep the money for the many things the sanctuary needs."
An Apache North Sea spokeswoman said: "We are extremely proud to support Willows Animal Sanctuary and, in particular, provide the funds to facilitate their kitchen revamp.
"Not only will this boost Willows' income stream, but it will also provide increased training opportunities to vulnerable people"
While renovation work is underway, the sanctuary will be closed to the public until November 3, when an open day will launch the updated centre.
From then on, the centre will be increasing their opening hours and staying open until Christmas, and will have updated their gift shop with Christmas-themed items.
Ms McDonald said: "We have been fortunate enough to secure a donation from Apache North Sea to make vital repairs and improvements to our coffee shop.
"Not only does this mean we will be serving hot food and homemade cakes, we will be able to offer further training opportunities.
"We hope people will endeavour to support Willows' new venture and improve our income which will help to pay our enormous hay and feed bill."
The sanctuary, which celebrated its 20th anniversary in July, will be closed until November 3.