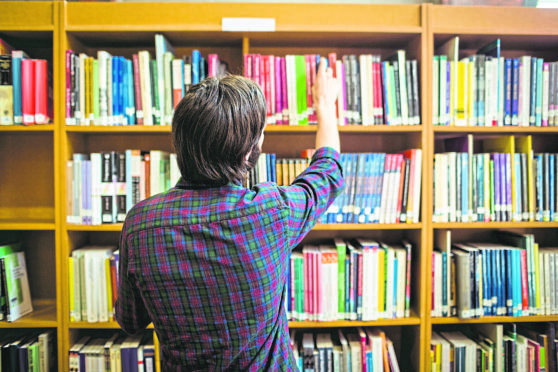 The number of new library memberships issued in the north-east, Highlands and Islands is reducing, leading to a call for more people to support the beloved community service.
Figures obtained by The Press and Journal through Freedom of Information legislation revealed a huge drop in memberships in libraries across the regions.
Changes in the way people use library services have been highlighted, as people take advantage of digital downloads and make tens of thousands of visits without signing-up.
Nonetheless, the numbers officially registering as members of public libraries are decreasing.
The Highland region saw 9,010 memberships issued in 2015, but only 4,289 in 2018.
New members at Thurso library fell from 652 to 192, Dingwall from 609 to 246 and Inverness from 1,935 to 652.
And between January and November last year, there was only one new member of Knoydart library in Lochaber.
Aberdeen City Council owns 17 libraries and issued 10,313 new memberships in 2015, but only 8,180 new memberships were taken out between January and November.
Libraries in Bridge of Don, Ferryhill and Mastrick saw a drop of more than 100 new memberships issued to new members.
Some libraries did, however, experience success, with membership numbers regaining momentum at Airyhall and Bucksburn libraries.
Councillor John Wheeler, convener of the council's education operational delivery committee, said: "Public libraries have adapted and evolved for over 150 years to connect individuals and communities to information, knowledge and culture and they continue to be integral to life in Aberdeen.
"It's important to remember you don't have to be a member to visit our libraries and visitor numbers remain strong throughout the city."
In Aberdeenshire, which has 52 publicly-owned libraries, there were 8,448 new memberships issued between January and November.
That number has dropped significantly since 2015, when there were 11,386 new members.
John Harding, head of lifelong learning and leisure, credited the sudden drop with a change in the region's calculating of numbers.
He also revealed that Shire libraries have seen a vast increase with people engaging with digital downloads, which he said: "reflects the changing faces of libraries across Scotland".
Laura Swaffield, chair of national charity The Library Campaign, echoed this sentiment.
She said: "Membership numbers don't tell the full story.
"The special thing about libraries is that you can just drop in and enjoy them without having to sign up, pay money or even buy a coffee. That's precious.
"I'd say to anyone in the north-east or Highlands "come in and get a membership, you don't know what you're missing".
"But if you don't use it, you're in danger of losing it."