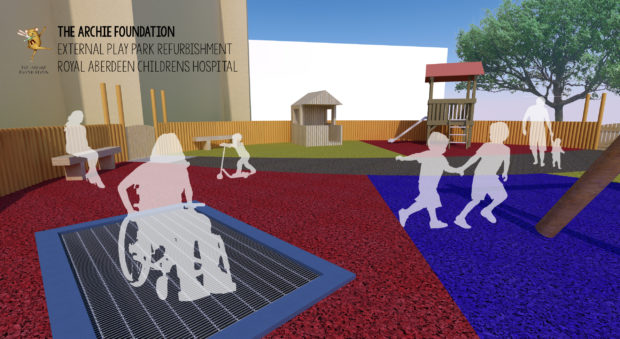 Sick kids in Aberdeen have been given a new outdoor play area thanks to a £90,000 charity donation.
Patients and their families at Royal Aberdeen Children's Hospital are now able to enjoy some much-needed respite and fun in the sun thanks to The Morrisons Foundation's gift to The Archie Foundation.
The park has been created to let children or all ages and abilities play together and keep active.
Archie Foundation chief executive, David Wood, said: "All children should have play opportunities available to them, however, the old play area on the grounds of the Royal Aberdeen Children's Hospital was closed and in need of refurbishment and repair.
"We were absolutely delighted when The Morrisons Foundation provided the funds to install specialist play equipment, we have been able to create a wonderfully inclusive and enhanced outdoor play area."
He added: "The age-appropriate, inclusive and popular play equipment will assist in reducing stress levels for both patients and their siblings during a visit to hospital or a long stay."
Sarah-Jane Booth, from the Aberdeen Morrisons supermarket, said: "We are over the moon to be able to support such a great local charity.
"I'm really proud that the foundation has been able to provide a new play area to the hospital which I'm sure will make a difference to children there for a long time to come."