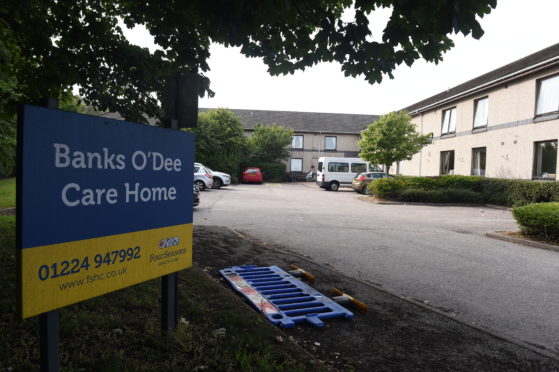 Residents at a closure-threatened city care home were left almost naked after a shower and without their dentures at mealtimes, it emerged yesterday.
And staff at Banks O'Dee in Tullos were unaware of how some pensioners wanted to be treated if they fell seriously ill and needed to be resuscitated, according to a shocking Care Inspectorate report.
Earlier this year inspectors released a damning dossier, detailing some of the horrors  they had discovered during an unannounced visit in September.
And following a similar surprise inspection in January, where the watchdog found that none of the seven urgent improvements they called for had been made, operator Four Seasons announced it would "reluctantly" be pulling out.
The Care Inspectorate has now released the findings from that visit which highlighted that residents' plans for palliative or end of life care were not always accurate.
---
>> Keep up to date with the latest news with The P&J newsletter
---
Its report said: "Communication tools used by staff were not always up-to-date and accurate – this included information on their resuscitation status.
"The service used a high level of agency and temporary staff and there was a potential for residents' wishes regarding active resuscitation not being complied with."
During the visit, it was noticed that a resident had been wheeled from the shower to their bedroom on a commode and left "only partially dressed with a towel covering their groin".
Another had spent 14 hours in bed as no-one was available to help them get up. When quizzed further, staff were unable to confirm when the resident had last eaten.
Those living at the care home were spending "prolonged periods" alone and it was noted that a number of unwitnessed falls had been reported.
In addition, three of the five fall sensor mats which were tested were faulty.
And inspectors noted that a "significant number" of residents had lost valuable items including hearing aids, dentures and glasses.
The report said it prevented them from being able to communicate fully and meant one person had to avoid their favourite foods as they were unable to chew properly.
During the unannounced inspection in September 2018, it was found that some Banks O'Dee residents were being left to urinate in a downstairs corridor.
The watchdog demanded that the "strong odour" of urine be removed but noticed on the return visit that there was still an "unpleasant" smell in the home.
A spokesman for Four Seasons said: "We regret that our concerns are reflected in the Care Inspectorate report.
"Four Seasons has been engaging with the council and other care providers to see if there is another operator interested to take on the home."
Aberdeen City Health and Social Care Partnership has confirmed plans are in place to relocate its 49 residents if a new owner cannot be found.