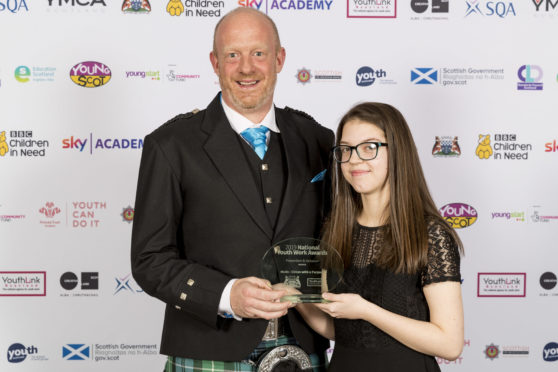 A group, which teaches circus skills and runs a cafe for youngsters has won a national award for prevention and inclusion.
Modo Circus with Purpose set up the Encounter Youth Cafe in Drummers Corner, Peterhead, in 2016 as a social venue offering positive activities for young people.
During the past year, the group has welcomed more than 600 young people, clocked up more than 7,000 hours of volunteer time and signposted 80 young people on to other services or activities.
Modo Circus with Purpose has now been announced the winner of the National Youth Work Prevention and Inclusion Award by Youth Link Scotland.
Director Martin Danziger praised both the staff and volunteers for all their hard work in creating the success story.
He said: "This is a huge boost to the company and enormously important for everyone who has given so much time, enthusiasm and commitment to make Encounter a hub for young people and the wider community.
"The successes of Encounter, reducing crime by 46% and engaging, retaining and progressing huge numbers of young people is down to the dedication of the fantastic team of staff and volunteers who turn up night after night to build the trust, confidence and relationships that allow young people to change their lives for the better."
Police have been working with Modo since 2015 to help reduce antisocial behaviour involving youths.
Crimes of this type dropped by a third from 2015-16 to 2017-18 and, within the Drummers Corner area, diminished by 43% in the same period.
There was a 30% overall drop in antisocial behaviour across the town.
Buchan Area Inspector George Cordiner said: "I have no doubt that the work of Modo has been a significant contributor to this reduction. Their tireless work in Peterhead town centre has been of great benefit to Police Scotland.
"We will continue to work closely with Modo and I am sure that, with their continued support and intervention, we will continue to have a positive impact on the levels of antisocial behaviour in Peterhead and the wider Buchan area."
Laurence Findlay, Aberdeenshire Council's director of education and children's services congratulated the team on the win.
He said: "Our Work With Young People team is proud to support and collaborate with Modo, and their efforts to engage with young people regardless of their background or situation is valued."