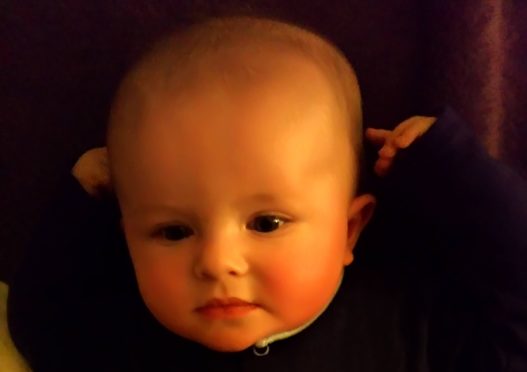 A north-east couple preparing for a meeting with care professionals next week say they have "lost faith" in the health service.
North-east parents Lisa and Jordan Humphrey are "disgusted" by the problems their son Johny, who has cystic fibros, has faced.
The 18-month-old has to have regular hospital visits due to his disorder and in one of his recent tests the bacteria for pseudomonas aeruginosa (PA) was detected – a special type of bacteria which can only be passed between people with cystic fibrosis (CF).
Generally due to the chances of cross-infection, people with CF are kept apart.
But Mrs Humphrey believes NHS Grampian must have made a mistake and claim that has left her son at risk.
She has called a meeting with the board's cystic fibrosis health team in a bid to find out more.
Mrs Humphrey said: "Everything was good at the hospital for a while but then things started to go wrong.
"Swabs were going missing and he had bacteria we weren't told about.
"Now a swab has now come back showing he has pseudomonas aeruginosa bacteria, which can only be transfered between people with cystic fibrosis.
"At the last appointment in Aberdeen Childrens Hospital there was a mix up and we were left waiting. That shouldn't happen as we could end up in proximity to someone else.
"Now that has been drawn to our attention we're wondering if this could have happened before.
"He has bacteria that is hard and aggressive to get rid and it could be because of their mistake.
"We've no faith in the NHS now, but I know my faith can't be left in tatters as I've a son who will need medical treatment all his life.
"The last thing I want is this dragging on and us not all working together in his interests."
A spokeswoman for NHS Grampian highlighted that chronic infection rates including for Pseudomonas aeruginosa for CF patients at Royal Aberdeen Children's Hospital are low when compared with the rest of Scotland and the UK .
She also emphasised that where issues have arisen a solution is always implemented.
The spokeswoman said: "Speaking generally, we take the care of our CF patients very seriously.
"As per national guidance, we take every effort to avoid contact with any other patients, whilst inpatients in hospital.
"We have become aware that CF patients were spending more time in a waiting area as outpatients than we would wish.
"This issue is now being dealt with and this information was shared with the Humphrey family. The risk this poses to patients is low but it does not reflect best practice.
"We are by no means complacent and work hard to maintain and improve this performance."​​
"We can confirm we have met with the Humphrey family on a number of occasions to keep them updated on their child's treatment and to discuss any concerns they might have.
"We believe we have been open and transparent in all our discussions with them."