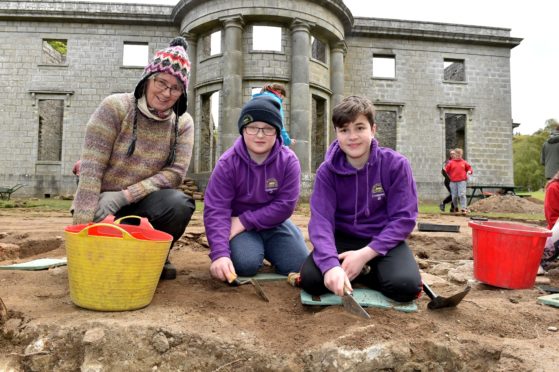 An archaeological dig at Aden Country Park has revealed the historic house was built on top of another building – with some puzzling drains also uncovered.
The excavations at the Mintlaw park have focused on the ruins of Aden House, which only has the walls remaining.
The team has now revealed that they have discovered the 18th century property was built on top of another building.
Aberdeen-based archaeologist Ali Cameron is leading the dig after being appointed by Aberdeenshire Council.
Geophysical studies, by Rose Geophysics, carried out at what would have been the gardens, show there were possibly walls or paths underneath.
Ms Cameron, whose team has been assisted by volunteers from the local primary schools including New Pitsligo, said: "We've found what would have been a fountain but it's filled in with all of the concrete bits – this was early 1880s or 90s and is when concrete started to be used for everything.
"At some point they had broken up the fountain and dumped all of the broken pieces  and covered it up with soil and grass.
"Our earliest photographs of Aden House only has grass here so that's exciting.
"One of the other things we found is an enormous drain which is a metre high. They are often about 30cm so to have it so deep is unusual.
"So far we're not sure how far it goes or where to so that's a question we can answer with another dig – a good dig gives answers but a really good dig leaves us with questions.
"Another question is the walls we've found under the walls which still stand today.
"We've not been able to find out much about that, but we're now planning to dig inside the mansion next year, lifting the grass and soil that was dumped in there so we can find out more about what actually lies underneath."
The dig is one of two taking place at Aden this year.
In another area of the park, archaeologists are planning a June dig to uncover more information about the Neolithic period in Mintlaw.
Funding from the Heritage Lottery Fund and Historic Environment Scotland will support the digs over the next five years.
Those interested in the digs have the opportunity to get involved on Saturday, from 10am-4pm. For more details, e-mail justinetough96@gmail.com