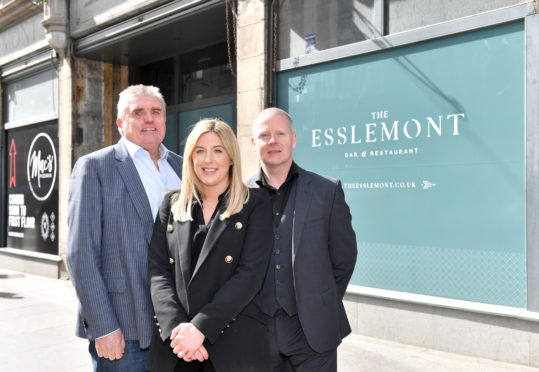 Work to transform a historic department store into a pub, restaurant and traditional pizzeria is under way – with the £500,000 scheme expected to be completed this summer.
The McGinty's Group has now taken over the former Esslemont and Macintosh building, after announcing plans to breathe new life into the Union Street landmark in February.
It already operates seven pubs, restaurants and hotels in Aberdeen and will occupy the ground and first floors.
The new owners have already begun recruiting the 70 staff the ventures will bring to the city centre and confirmed that the businesses will be given names referencing the venue's history.
The new food and drink establishment will comprise of a "stylish" bar and 120-seater restaurant on the ground floor, which will be named The Esslemont, while the pizza restaurant upstairs will be known as Mac's Pizzeria.
Company director Allan Henderson said: "It is fantastic to officially start the refurbishment of this landmark building.
"Over the past couple of months we have been working closely with our architects on research and design, with trips all over the UK to create our vision for the venue.
"We have been delighted with the response and support from the public since the news came out, which highlighted the local love for this building."
Esslemont and Macintosh opened in 1873 and occupied a space on Union Street from the 1920s until it closed in 2007.
The ground floor was most recently occupied by Jamie Oliver's Italian restaurant, but has lain empty since the business closed two years ago.
The renovation is expected to be completed by late summer, with award-winning Nicoll Russell Studios appointed as architects to oversee the refurbishment and design work.
Local building contractors, Steven Reid Joinery, will also undertake work. Inverurie-based branding and design company, CP and Co will help to market the new enterprise.
Alan Aitken, operations director, added: "This project will be our biggest to date with two floors to overhaul and transform, but it is very exciting for us all.
Historic Aberdeen department store to reopen as restaurant under £500,000 plans
"Importantly, we will be using local contractors wherever possible to help us bring this amazing building back to life and we would also like to thank the various departments of Aberdeen City Council for their co-operation on this project to date.
"With two concepts within the venue, it is going to provide something new and different for the city that we feel will appeal to a wide audience whilst strengthening the food and drink sector in Aberdeen.
Adrian Watson, the chief executive of city centre improvement group Aberdeen Inspired, said the building's rebirth would contribute to ongoing efforts to boost trade along the Granite Mile.