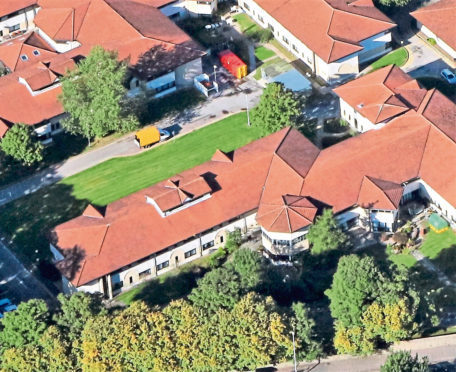 Dementia patients at an Aberdeen hospital will be moved from the ground floor to an upstairs ward, prompting concerns they could lose out on important stimulation from the great outdoors.
The Davan ward at Royal Cornhill Hospital, which caters to patients with dementia and similar conditions, will be relocated as part of ongoing refurbishment work at the hospital.
NHS Grampian is seeking to upgrade six of its acute wards at the site over the next two and a half years and last year completed the renovation of the Huntly ward.
The health board said one of the "key lessons" learned during the work on that ward was the impact of construction work on patients receiving treatment nearby.
As a result, it changed its works schedule so remaining wards will be completed in blocks of two.
Under the previous plans, Davan would have been moved twice to accommodate the work on the project, out of its current home on the ground floor to a new location for a year, before being returned.
NHS Grampian said this would "clearly be less than ideal for the patient group".
Instead, the facility will now be moved only once to minimise disruption, to an upstairs ward.
While that will minimise upheaval, family of current parents fear it will limit their loved-ones' access to gardens and outdoor spaces at the hospital.
One man, whose wife is currently receiving treatment in the Davan ward, said: "Stimulation is just so important and right now patients are able to enjoy easy access to the garden.
"There they can watch the birds and see the wind blowing through the trees.
"I cannot fault the impeccable work of the staff at Cornhill, they really are incredible, but I worry about the people in the ward if they aren't able to get out as much in the future."
A spokeswoman for NHS Grampian said: "We appreciate this move is from a downstairs ward to an upstairs ward and have planned the move for the end of the year to enable the patients to enjoy the garden this summer.
"We will continue to communicate about the move with patients and carers.
"Moving forward, staff will be able to take patients out of Davan to enjoy the hospital grounds.
"While this is not ideal, we are limited by the architecture of the building and there is an inevitability that some patients will be on first-floor wards.
"We currently have seven first-floor wards on site and work hard to ensure that the patient experience is not negatively affected by this.
"Patients are encouraged and supported to get fresh air on a daily basis."