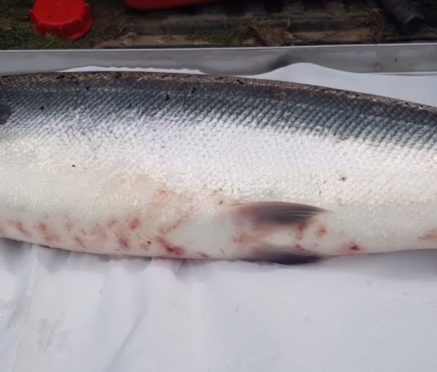 An investigation has been launched following the discovery of diseased fish in two north-east rivers.
The Grampian Moorlands Group, an association of several sporting estates in the region, yesterday warned its members to watch out for infected creatures.
The salmon were recovered from the Dee and the Don over the weekend and both showed signs of haemorrhaging and fungus.
The symptoms were mainly exhibited along the area on the belly of the fish and around the vent and fins.
It is unknown what caused the trauma.
The Dee District Salmon Fishery Board (DDSF) is liaising closely with Marine Scotland and samples have now been taken by the Fish Health Inspectorate (FHI) from a catch made on the Dee.
A Scottish Government spokesman said: "Marine Scotland has been made aware of reports of diseased fish in a small number of rivers in the north-east.
"FHI staff collected samples from affected fish and analysis is being carried out.
"We are awaiting the results of the laboratory tests.
"We are liaising with Fisheries Management Scotland and district salmon fishery boards to monitor the position."
The Grampian Moorlands Group posted on Facebook to alert its members to the problem, and encouraged them to report any concerns.
The message said: "We have been informed that the FHI at Marine Scotland would like further samples from both rivers, and we would urge you to contact the office on 01339 880411 should you come across any fish exhibiting these symptoms.
"The DDSF board will make arrangements with the FHI to come to you and sample the fish so, where possible, please retain the fish alive so that it may be sampled.
"Please inform any anglers and members to be vigilant for these symptoms.
"Please provide them with any reports of diseased fish even if you are not able to retain a fish for sampling.
"Finally please ensure that, if you come into contact with any of these fish, that you disinfect your equipment thereafter."