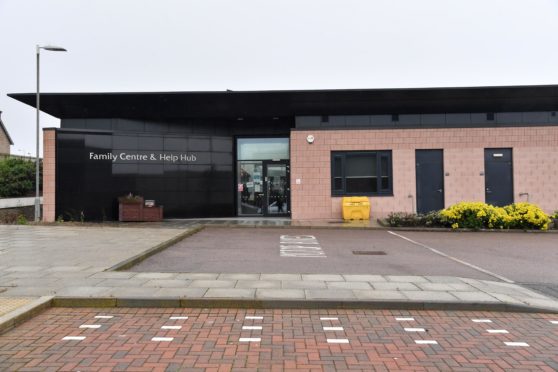 One area to be praised by inspectors was the prison's family centre services – but yesterday it was revealed these have since been slashed due to funding cuts.
Chief inspector Wendy Sinclair said what was on offer at HMP Grampian families "stood out" and described them in her report as the "best I've ever seen".
The centre is run by Action for Children. It gives families the chance to prepare for a visit – particularly if they have travelled from Elgin or Aberdeen to see a loved one – and there is a cafe and play area, with support and information available from a mix of staff, volunteers and a family contact officer.
But since the inspection in February, funding for the service has been cut.
It means the "example of best practice" was now no longer the case as the "valued" services are no longer fully operational.
Ms Sinclair expressed her disappointment in the services being more than halved.
She said: "This was a place for staff to go when they needed time for themselves as well as for the loved ones preparing to enter the prison.
"It was so good when we visited earlier this year that I've recommended they introduce it at HMP Polmont so it was awful to see it being cut."
Acting prison governor Mike Hebden is hopeful that other financial support can be sought.
He said: "The centre was a great resource for us and one of the biggest things that we've found helps prisoners is keeping their family relationships.
"Funding came from various sources – the Scottish Government gave it out through contributions to the councils.
"Aberdeenshire Council are still providing some funds but in this time of austerity the city decided to use their funding elsewhere so we're running at a reduced service.
"I believe those involved are currently looking for an alternative funding solution to bring the centre back fully."
Last night, North East Labour MSP Lewis Macdonald called for funding to be found for the centre.
He said: "I visited the family centre at HMP Grampian, along with a mother and child visiting the child's dad in jail. I saw for myself how much this helped keep dad in the family's life and – just as importantly – keep the family in that young father's life. The family centre helped give him a good reason to come out of prison and get his life back on the rails.
"This report shows what a difference the family centre makes to so many different people. If SNP ministers are serious about reducing re-offending, the single most useful thing they could do today is put the funds in place to allow the family centre in Peterhead to continue to do its job. Actions speak louder than words, and the excellence of the family centre at HMP Grampian is there for all to see."